Egress Windows and Why Your Basement Remodel Should Include One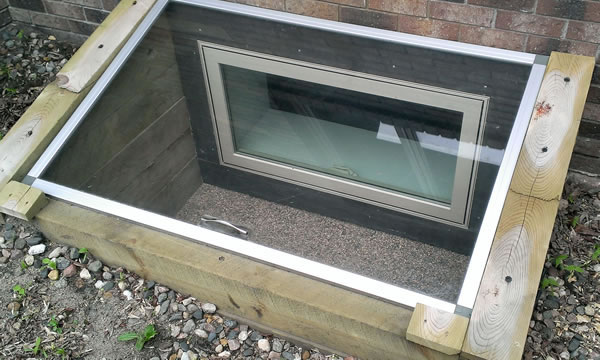 Egress Windows and Why Your Basement Remodel Should Include One
Egress Windows are windows that are installed in specific locations within your home and they are intended to provide an emergency exit from the building.  Egress windows must meet specific size requirements and other specifications to be considered an Egress window.  Egress windows are commonly found in basement remodeling projects throughout South Eastern Wisconsin.
Where Are Egress Windows Installed?
Egress windows are required to be installed in every bedroom within your home and it doesn't matter if it's on the 1st or 2nd floor, you need to have one.  It's required by most state building codes.  Egress windows should also be installed in basements that are to be considered a living space, bedrooms or suites as a quick and safe exit in an emergency.  If any room in your home has the potential to become a bedroom you should have an egress window installed.
When remodeling your basement into a space someone can live in, building code requires you to have an egress window installed.  So if you don't have one already this can add to the expense of your basement remodeling project and your contractor will know and understand the local laws and regulations pertaining to your structure.
Size Requirements For A Basement Egress Window
There are four (4) different International Residential Code (IRC) criteria that an Egress window must meet in order to meet the specifications.  This would apply to an Egress window installed into your basement as part of a remodeling project as well.
• The egress window must have a minimum width of opening equal or greater than 20″.
• The egress window must have a minimum height of opening equal or greater than 24 in.
• There is a minimum net clear opening of 5.7 sq. ft. (5.0 sq. ft. for ground floor).  (free space when window is open)
• There is a maximum sill height above the floor of 44 in.
Does My Older Home Meet Current Egress Requirements?
There are many South Eastern Wisconsin homes that were built long before egress window requirements or that may have been built when the requirements differed from today.  If you converted any room of your home into a bedroom (that doesn't have an egress window) you are actually required to install one.  Without one the building or remodeling project would never pass an inspection.
Egress windows are also an important safety feature in your home, providing a quick escape route out of the room.  Many modern homes have slider windows in their bedrooms for an economical option.  If you're remodeling take the opportunity to go over the building code in your area.  Any licensed and reputable local home remodeling contractor can help you, and explain to you the requirements.  If you're building a brand new home, it's an important point you'll need to discuss with your building contractor as well.
Who Installs Basement Egress Windows in South East Wisconsin?
Brad's Construction is a full service remodeling contractor specializing in basement remodeling and renovation projects.  We routinely install egress windows with many of our remodeling projects and we are up-to-date and educated on the current Wisconsin building codes, Egress window products and the most up-to-date manufacturers recommended installation methods.   Give us a call today!