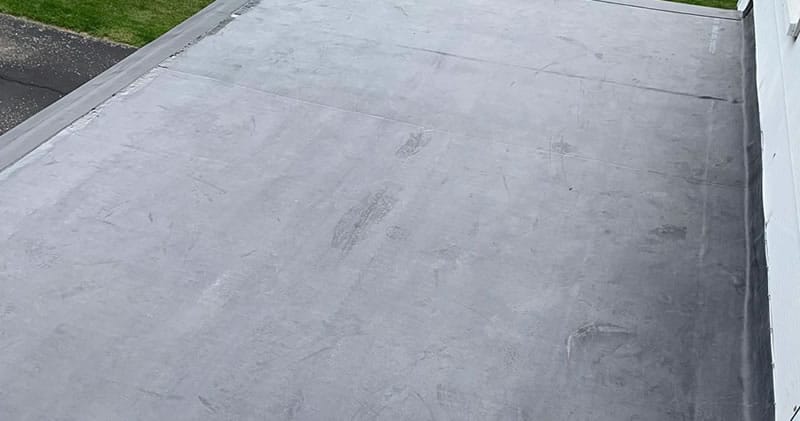 EPDM rubber roofing (ethylene propylene diene monomer rubber) is a type of synthetic rubber with a wide range of applications including roofing.   The "E" refers to ethylene, "P" to propylene,"D" to diene and "M" refers to its classification.  EPDM has other names too and you might know it by just rubber roofing, or rolled rubber roofing, or rubber membrane roofing. Rubber roofing is made by recycling other items like tires, sawdust, and slate dust.  It is very low-cost to produce and therefore is one of the least expensive roofing systems for flat roofs.
Whether your home has a flat roof or you have a flat roof over a porch or patio then EPDM rubber roofing is likely your best choice for a roofing material.   Rubber Roofing not only can reduce the labor costs associated with a roof replacement but it also features an extraordinary durability that provides excellent resistance to tears, abrasion and intense weather systems.  A properly installed EPDM roof can last up to 20 years without replacement.
More Benefits To EPDM Rubber Roofing:
Easy To Repair
Low Maintenance
Very Flexible and Strong
Rubber Can Easily Contour To Complex Roof Shapes
We realize that you've got many choices when it comes to choosing a roofing contractor to install EPDM Rubber Roofing on your WI home or building. We want you to know we understand and appreciate the commitment you are about to make to your home and we take it very seriously. When you choose Brad's Construction you're choosing a partner in making your home a better place. We guarantee it!