Egress Window Installations Beaver Dam WI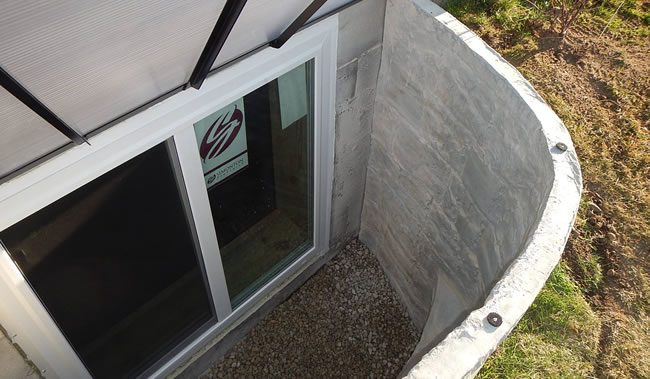 Want To Call Your Beaver Dam Basement a "Living Space" or Rent It Out?
The state of Wisconsin requires an Egress Window in Every Sleeping Room.
If you own an older Wisconsin home with a basement you may have already discovered the need for an Egress Window or two as your family grows and you look into expanding into the basement space.  For those of you who don't already know any room in your home, including the basement that somebody sleeps in must have an egress window in order to be legal and code compliant.
This causes a lot of confusion for homeowners who think they have their bases covered with an older egress window only to find out from a home inspection or building inspector that their egress windows don't in fact meet the requirements.
Brad's Construction is a full service home remodeling contractor based out of Mayville, WI.  We specialize in egress window installations into basements of both new and older homes throughout Beaver Dam.  With a thorough knowledge of the Uniform Dwelling Code in Wisconsin we are able to install egress windows that are safe, practical and meet all building code requirements.
There Are Three Basic Requirements For Basement Egress Windows
These items are taken directly from the Wisconsin building codes so it's about as official as information gets.
#1.  Egress Window Height
Code 21.03(6)(d)1 and 21.03(6)(d)2 state:
For any window used for exiting, the lowest point of clear opening shall be no more than 60 inches above the floor.  If the lowest point of clear opening is more than 46 inches above the floor, a permanent platform or fixture shall be installed such that a flat surface at least 20 inches wide and 9 inches deep is located no more than 46 inches directly below the clear opening.
This is telling you that no egress window can be greater than 60″ (inches) from the floor.  In an ideal situation the bottom of your egress window should be less than 46″ (inches) from the floor.  If it is between 46-60″ (inches), you need a permanent step.  This ensures that anyone can use the egress window in an emergency.
#2. Egress Areaways
In case you are unsure what an "areaway" is it's defined as "A small sunken area allowing access or light and air to basement doors or windows."  The areaway is outside the window and must be dug using hand tools or a small exvacator or bobcat.
Codes 21.03(6)(e)1 through 21.03(6)(e)6 state:
An egress window with any point of clear opening below adjacent grade shall be provided with an areaway in accordance with this section.
The width of the areaway shall be at least equal to the width of the window.
The areaway shall be a minimum of 36 inches measured perpendicular from the outer surface of the below-grade wall.
If the bottom of the areaway is more than 46 inches below adjacent grade or the top of the areaway enclosure, the areaway shall be provided with a ladder or at least one additional step to aid egress. Steps used to comply with this section are exempt from the requirements of s. Comm 21.04.
Ladders or other steps used to comply with subd. 4. may infringe on the required area of the areaway by a maximum of 6 inches.
The areaway shall be constructed such that water entering the areaway does not enter the dwelling.
#3.  Light and Ventilation
One of the final required items for an egress window to be code compliant is that your egress window must be large enough to provide enough natural light into the room with the egress. An amount equal to or greater than 8% of the floor area of the room must be glazed (another term for window). So if you had a 12ft x 12ft room (120sqft) you would need at least 9.6 square feet of window space.
Egress Windows For Basement Suites in Wisconsin
As you now know in order to consider the basement as a legal "living space" each room that someone sleeps in must have an egress window.  The installation of an egress window is fairly straightforward in most situations but should still be completed by a professional contractor.  You must dig an areaway outside the home and jackhammer a portion of the foundation to frame in the new egress window.  The windows will need to be sized correctly based on the size of the room as in the formula for natural light above.
Why Choose Brad's Construction To Install Your Egress Window?
When you choose Brad's Construction to install an egress window in your Beaver Dam you are partnering with a licensed and insured contractor.  We understand the Wisconsin building codes when it comes to single family dwellings and we can make sure your basement egress windows are compliant with code and installed right, the first time.
If you'd like to have an egress window installed into your Beaver Dam home then give us a call or fill out our contact form and someone will get in touch with you shortly to schedule a date and time when we can take a look at your project.