Your Premier Composite Deck Builder
We build composite decks using Fiberon, and Timber-Tech
Imagine a Low-Maintenance, Long-Lasting Composite Deck to Enjoy Your Wisconsin Summers
As the heart of Wisconsin summertime living, envision a beautiful, custom-made composite deck gracing your home. Brad's Construction specializes in bringing this vision to life, crafting stylish and enduring decks from superior composite materials.
Are you contemplating transforming your existing wood deck into a resilient, long-lasting structure built from high-performance composite materials? Composite and PVC decking offer remarkable benefits over traditional wood - they're virtually maintenance-free, impressively durable, and can boast warranties extending up to 25 years. That's a lifespan that far surpasses the average wood deck, offering you peace of mind alongside enduring beauty. Plus, the icing on the cake - these materials won't splinter, fade, or succumb to rot.
Serving Mayville, Beaver Dam, Fond Du Loc, and the surrounding areas in Dodge County, WI, Brad's Construction isn't just a general contractor. We are your local specialists in creating composite decks that not only fit your lifestyle but also enhance the aesthetic appeal of your home.
Our expertise includes working with leading manufacturers of composite decking materials like Azek, TimberTech, and Fiberon. These reputable suppliers are renowned for their top-tier products, guaranteeing your deck is built with the best materials available in the industry.
So, as you look forward to those balmy Wisconsin summers, consider the joy of relaxing on your custom, meticulously constructed composite deck. With Brad's Construction, you're not just building a deck; you're creating a lasting investment in outdoor living, offering years of enjoyment, comfort, and effortless style.
We Install TimberTech Decking
Azek TimberTech is a PVC composite decking that is available in several different grades and styles.
We Install Fiberon Decking
Fiberon Symmetry Decking offers the most natural look and feel available today in luxury composite decking, all balanced with time-tested durability and performance.
Fiberon Paramount® PVC Decking with its super-resilient surface, slip-resistant patterns and gorgeous hardwood colors. It has a durable co-extruded surface that's bonded to the core to create a hard-wearing yet lightweight, easy-to-handle board.
Fiberon composite and PVC decking materials carry the following industry leading warranties:
25-year Residential Limited Warranty against checking, splintering, delamination, rot and structural damage from fungal decay
25-year Residential Stain and Fade Limited Warranty
Aluminum Railings Compliment Your Composite Deck
Adding an aluminum railing system to your composite deck not only introduces an element of sleek and modern design but also ensures durability and strength to the overall structure. This combination marries the low-maintenance, weather-resistant qualities of both materials, offering an appealing and hassle-free outdoor living space.
The classic lines of aluminum railings lend a sophisticated look that pairs well with the diverse range of styles and colors offered by composite decking. This partnership also enhances safety without compromising on aesthetics.
With various finishes available, from brushed to powder-coated, you can select an aluminum railing that perfectly compliments your composite deck, thereby elevating your outdoor space to a new level of elegance and durability. With aluminum railings and composite decking together, you get the best of both worlds - functionality and style.
Customize Your Composite Deck With Additional Design Elements
Investing in a composite deck is not just about creating an outdoor space, it's about curating an experience. There are numerous accessories that can enhance the utility and ambiance of your deck. Integrated deck lighting, for example, provides a wonderful ambience for evening gatherings and improves safety by illuminating walkways and stairs.
Inbuilt BBQ hookups can transform your deck into a full-fledged outdoor kitchen, making it the ideal spot for summer cookouts. Some other innovative accessories you might consider include built-in benches and storage units, which not only offer additional seating but also provide discreet storage for outdoor cushions and accessories.
Installing a retractable awning or pergola can provide shade and extend the usability of your deck in various weather conditions.  Incorporating outdoor sound systems or a weatherproof TV could truly elevate your composite deck into an enviable outdoor living room. All these accessories help in creating a composite deck that is more than a deck - it's your personalized oasis.
Why Choose Brad's For Your Composite Deck Construction?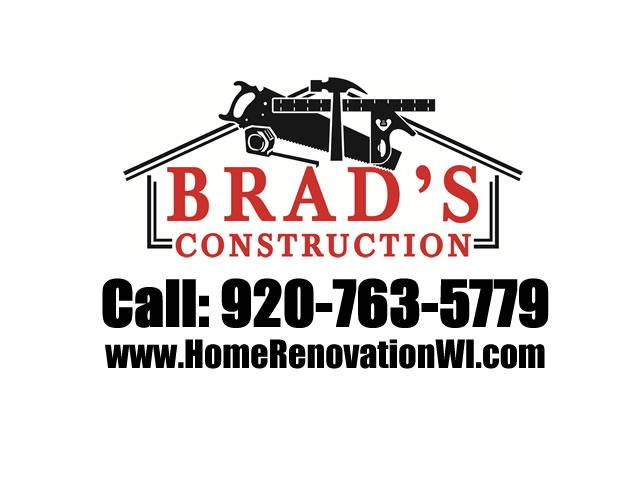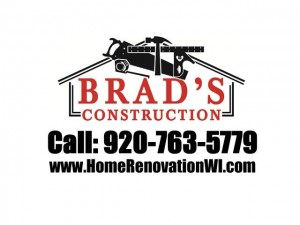 Brad's Construction is a general construction contractor based out of Dodge County, Wisconsin.  We serve Mayville, Beaver Dam, Fond Du Lac, Hartford, Waupun, West Bend and more.  We have extensive experience with composite deck planning, design and construction.
If you'd like to schedule one of the experts from Brad's Construction to come and view your deck building project for an estimate please give us a call or fill out our online contact form and someone will be getting right back to you.
View Our Work!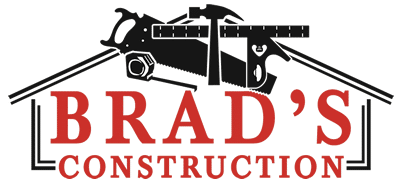 Why Choose Composite Decking Over A Traditional Wood Deck?
Composite decking materials offer several distinct advantages over traditional wood decking, which might make them a more appealing choice for some homeowners. These advantages include:
Durability: Composite decking is highly resistant to weathering, rotting, and insect damage. Unlike wood, it won't warp, crack, or splinter.  Composite materials are more resistant to elements and exhibit less color change over time compared to wood as well.
Low Maintenance: Unlike wood, which requires regular sealing, staining, or painting to maintain its appearance and prevent decay, composite decking requires minimal upkeep. Generally, an occasional power washing is all that's needed to keep a composite deck looking good.
Consistency in Appearance: Composite materials offer uniformity in color, texture, and appearance that wood can't match. This consistency can give your deck a sleek, modern look in a wide variety of colors and textures.
Longevity: Composite decking materials often come with extended warranties, reflecting their superior longevity.
Sustainability: Many composite decking products are made from a blend of recycled wood and plastic, making them a potentially more environmentally friendly choice than non-recycled wood. According to a report by the National Institute of Standards and Technology (NIST), composite decks have a smaller carbon footprint over their lifespan than wood decks.
Safety: Unlike wood, composite decking doesn't splinter, making it safer for bare feet and pet paws.
While composite decking can have a higher upfront cost than wood, its durability and low maintenance requirements can make it a more cost-effective choice in the long run. As always, it's important for homeowners to consider their specific needs, budget, and personal preferences when choosing a decking material.
What Our Customers Say...