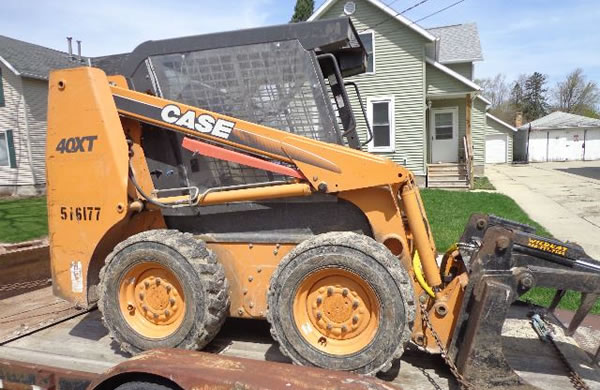 Skidsteer and Bobcat Services in Mayville, Wisconsin
It's not uncommon for a homeowner to require the services of a skidsteer on their Wisconsin property.  Clearing brush, moving dirt piles, augering post holes, clearing snow… These are all heavy lifting tasks that don't quite require the brute force (or expense) of an excavator, yet they are still difficult to complete by hand.  It's these situations where a skidsteer and a competent operator can really save you time (and your back).
Brad's Construction is a general contractor located in Mayville, Wisconsin and serving the surrounding area.  We own a modern and well maintained skid steer that we use to complete smaller landscaping type projects throughout the area.
Skidsteer and Bobcat Services We Offer in Mayville, WI
We have a variety of different attachments we can use to complete a variety of tasks on your property while creating minimal disturbance.
Dirt and Debris Removal
Moving Dirt Around Your Property
Light Brush and Lot Clearing
Small Excavations
Augering Post Holes
Spreading Sand or Soil
Small Landscaping Projects
Building Berms
Small Rock Walls
Retaining Walls
We are equipped with a flat deck trailer to deliver the skid steer to your location and load/unload with minimal fuss or mess.  Our experienced staff are well trained in both safety and operating techniques so we can usually make short work of the projects a skid steer was designed for.
What About Clean Up?
We take the time to make sure your property looks better than we found it… Everytime.  We're not going to chew up your yard with irresponsible driving, we're not going to make a mess of your driveway and if the weather conditions or property conditions make the situation unavoidable we'll operate with even greater care and attention.
If your project is within close proximity to Mayville, Wisconsin then give Brad's Construction a call today.