Garage and Shop Construction in Dodge County Wisconsin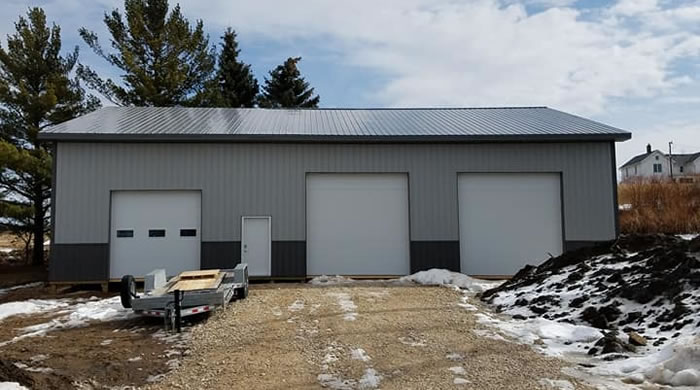 Looking For More Storage Or Shop Space?
We specialize in building garages and shops.
Have you been considering the addition of a new detached garage or shop on your property?  Adding a garage to your home has many advantages such as the massive increase in secure, dry, storage space.  Maybe you'd like a place for your hobbies, somewhere secure for your boat, classic cars, or other toys?  Building a new detached garage and shop is also an excellent investment in your home and will increase your property value.
Brad's Construction is a local, family-owned construction company based out of Mayville, WI and serving all of Dodge County, Wisconsin.  We specialize in the construction of new detached garages and shops.  From a simple single car detached garaged to a full blown shop with bay doors we can complete the work from start-to-finish.
Garage And Shop Construction Dodge County WI
New attached garage construction
Detached garage construction
Pole barn or pole building construction
Shop construction
There are numerous reasons for a family living in Wisconsin to have a garage.
Securely park your vehicles.
Securely store toys such as Motorcycles and Boats.
Never scrape your car windows in the winter again!
A warm and dry place for a workshop.
Secure storage.
Better resale value.
With some townships even allowing a suite above the garage it's a great place to turn into a home office or even a revenue generating rental that would eventually pay for itself.
We don't force you to use a "pre built" package.  We can build your garage what ever size you want. (local codes and bylaws will apply)  We are flexible  in the shape, roof pitch and design.  We will build a Garage for you and your family that truly meets your needs and best utilizes your available space and budget.
We realize that you've got many choices when it comes to choosing a building contractor to help you design and build a garage for your Wisconsin home. We want you to know we understand and appreciate the commitment you are about to make to your home and we take it very seriously. When you choose Brad's Construction you're choosing a partner in making your home a better place. We guarantee it!
If you'd like to schedule an estimate to build your shop or garage please give us a call (920) 763-5779 or fill out our contact form and we'll get right back to you.