Deck Construction Dodge County WI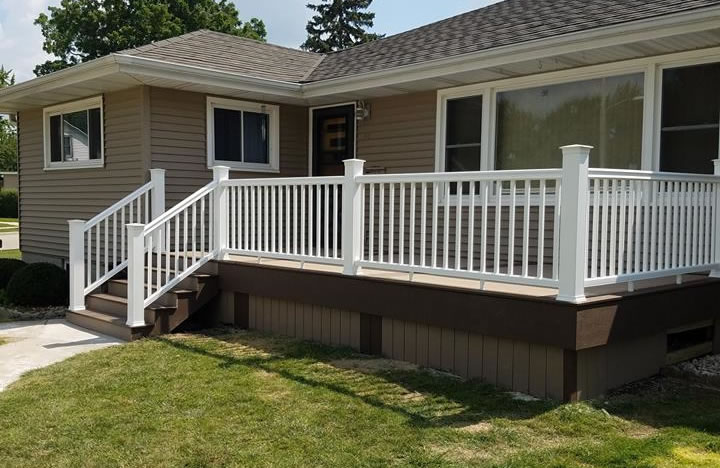 Wood Decks are an excellent way to keep a natural look and feel about your property.  Most decks today are built out of wood because it's affordable and easy for your builder to work with.
The most affordable and commonly used type of wood for decking would be pressure treated decking materials.  However, wood can also be quite expensive if you're wanting to build your deck out of popular redwood, cedar or the even more expensive Ipe.  Natural decking materials however offer a certain richness, and feel that you can only get from using wood.
Some Recent Deck Projects We Have Completed
What's The Difference In Wood For Decking?
Pressure Treated Decking:  It's very resistant to rot and insects and it also withstands moisture very well, not to mention it's readily available which also makes it affordable.  Pressure treated wood doesn't necessarily need to be painted if you like the dark brown, or dark green color variations that it comes in.  Most pressure treated decking material is milled from southern yellow pine.  Brad's Construction can build you a deck out of pressure treated lumber throughout the Wisconsin area.
Redwood & Cedar Decking: If budget isn't an issue and you want one of the more elegant looking materials for your deck then redwood or red cedar are great choices. Both of  these western softwoods are highly sought after for their deep rich colors and natural beauty. Both of these species actually contain tannins and oils that help them naturally resist rot, decay and wood boring insects without having to be treated with chemicals.  The crew at Brad's Construction are the Wisconsin Cedar Decking experts!
Ipe Decking:  Also known as Brazilian Walnut or Ironwood Ipe pronounced (Ee-pee) is beautiful looking exotic wood from South America. Ipe is naturally very resistant to rot, abrasion & weather which makes it a good canditate for a deck in our Wisconsin climate.  Ipe's great looks and performance don't come without cost however as it's more expensive than Cedar.  Ipe is definitely not a budget deck material but we work with it enough that Brad's Construction can provide you with an excellent looking Ipe Deck.
If there was just one single exterior home improvement any Wisconsin homeowner could make to their home, that would enhance both the look and property value it would be the addition of a new custom wood deck. Not just any old deck will do however, and there are several things you need to consider before you get to work building your deck.  That's why choosing an experience team like Brad's Construction is your best choice!
We realize that you've got many choices when it comes to a custom deck builder in our Wisconsin service area. We want you to know we understand and appreciate the commitment you are about to make to your home and we take it very seriously. When you choose Brad's Construction you're choosing a partner in making your home a better place. We guarantee it!