Wood Deck Builder Serving Dodge, Outagamie, and Winnebago Counties
We build beautiful decks out of cedar or pressure treated lumber
The charm and grace of a wood deck serve as a timeless enhancement to your home, effortlessly merging the natural beauty of the outdoors with the comfort of your indoor living spaces. Many homeowners in Wisconsin choose to build their decks from wood, appreciating its affordability, ease of handling, and the traditional appeal that it brings to their homes.
Among the diverse options available, pressure-treated decking materials stand out as a popular choice. Its cost-effectiveness and resistance to decay and insects make it an ideal choice for homeowners seeking durability without compromising the aesthetic appeal. It's easy to work with and readily available, making it a favorite among both homeowners and builders alike.
However, if you are inclined towards a more luxurious touch, consider options like redwood, cedar, or the premium Ipe. While these options represent a higher investment, they promise an unmatched richness and feel, rewarding homeowners with their unique textures and colors. Cedar, with its striking grain and natural resistance to insects and rot, offers a harmonious blend of beauty and durability. Redwood, recognized for its gorgeous hue and longevity, is another fantastic choice, while Ipe, though more expensive, delivers exceptional hardness and resistance to weather conditions, guaranteeing a deck that stands the test of time.
In the hands of a skilled builder, these materials can be transformed into a stunning deck that harmonizes with your Wisconsin home's style, creating an inviting outdoor space for you to relax, entertain, and enjoy nature. Let the allure of a wood deck bring a fresh and captivating look to your home, capturing the essence of natural beauty right in your backyard.
What's The Difference In Wood For Decking?
Pressure Treated Decking:  It's very resistant to rot and insects and it also withstands moisture very well, not to mention it's readily available which also makes it affordable.  Pressure treated wood doesn't necessarily need to be painted if you like the dark brown, or dark green color variations that it comes in.  Most pressure treated decking material is milled from southern yellow pine.  Brad's Construction can build you a deck out of pressure treated lumber throughout the Wisconsin area.
Redwood & Cedar Decking: If budget isn't an issue and you want one of the more elegant looking materials for your deck then redwood or red cedar are great choices. Both of  these western softwoods are highly sought after for their deep rich colors and natural beauty. Both of these species actually contain tannins and oils that help them naturally resist rot, decay and wood boring insects without having to be treated with chemicals.  The crew at Brad's Construction are the Wisconsin Cedar Decking experts!
Ipe Decking:  Also known as Brazilian Walnut or Ironwood Ipe pronounced (Ee-pee) is beautiful looking exotic wood from South America. Ipe is naturally very resistant to rot, abrasion & weather which makes it a good canditate for a deck in our Wisconsin climate.  Ipe's great looks and performance don't come without cost however as it's more expensive than Cedar.  Ipe is definitely not a budget deck material but we work with it enough that Brad's Construction can provide you with an excellent looking Ipe Deck.
If there was just one single exterior home improvement any Wisconsin homeowner could make to their home, that would enhance both the look and property value it would be the addition of a new custom wood deck. Not just any old deck will do however, and there are several things you need to consider before you get to work building your deck.  That's why choosing an experience team like Brad's Construction is your best choice!
We realize that you've got many choices when it comes to a custom deck builder in our Wisconsin service area. We want you to know we understand and appreciate the commitment you are about to make to your home and we take it very seriously. When you choose Brad's Construction you're choosing a partner in making your home a better place. We guarantee it!
View Our Work!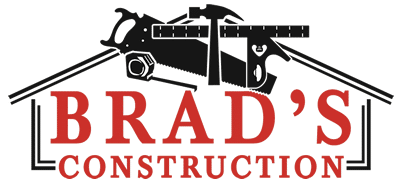 Why Would You Choose To Build A Wood Deck Instead Of A Composite Deck?
When it comes to choosing a material for a new deck, homeowners often weigh the benefits and drawbacks of traditional wood decking, such as cedar or pressure-treated lumber, against newer composite decking materials.
Here are several reasons why a Wisconsin homeowner might choose traditional wood decking over composite:
Aesthetics: For many homeowners, nothing matches the natural beauty of real wood. Cedar, with its rich color and grain, offers a timeless, classic look that many find more appealing than the appearance of composite materials.
Cost: Wood decking, especially pressure-treated lumber, is generally more affordable upfront than composite materials. This makes it a popular choice for homeowners on a budget.
Heat Retention: Real wood tends to stay cooler underfoot in hot weather compared to composite decking, which can absorb and retain heat. This could be a significant factor for homeowners in regions with warm summer climates.
Ease of Repair: If a wooden deck board gets damaged, it's usually easy to replace that single board. With composite decking, especially if colors have been discontinued or batch colors slightly vary, a single damaged board can be more problematic to replace seamlessly.
Environmental Considerations: Some homeowners prefer wood decking because it's a natural material. While composite decking often contains recycled content, it's typically a mix of wood fibers and plastic, and the manufacturing process can be energy-intensive.
Versatility: Wood can be easier to cut and shape than composite materials, allowing for more design flexibility. Intricate patterns and designs might be more achievable with wood decking.
It's important to note that wood decking does require more maintenance than composite materials, needing regular cleaning, staining, or painting to keep it looking its best and to prevent rot and insect damage. This ongoing maintenance commitment is something homeowners need to consider when making their choice.
What Our Customers Say...