Remodeling The Shower In Your Dodge County WI Home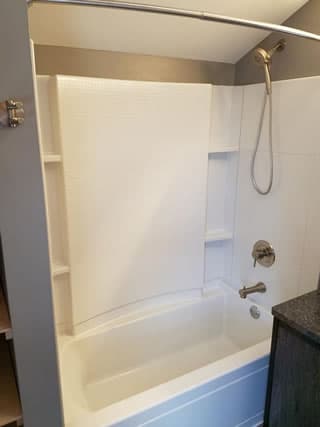 Is It Time For A New Shower In Your Master Bathroom?
We remodel existing showers and build new custom showers.
Are you finally motivated and ready to do something with that old, dated, shower in your master bathroom or maybe a guest bathroom?  Has your family just purchased a home in Dodge County, WI and you'd like to make some meaningful improvements to your master bathroom?  From an open walk-in shower with a frameless glass enclosure to tile showers and shower surrounds, rain shower heads and modern digital showering controls there are so many choices for a homeowner to make with regards to their bathroom.
Remodeling your existing shower is one of the best ways to get a more luxurious and relaxing experience out of your bathroom, the difference can be dramatic.  Your shower remodel will make your shower more inviting and it will also increase the value of your home which you may be able to recoup later if you decide to sell.  If you're looking for a reliable company that can remodel your shower in Dodge County, WI you'll be really glad you've stumbled upon our website!
Brad's Construction is a bathroom remodeling contractor based out of Dodge County, WI and serving Beaver Dam, Mayville, and Fond Du Lac.  We specialize in building, and remodeling our clients showers.  Whether you'd like to build a new shower in your master bathroom, remodel a shower in your guest bathroom, convert an old bathtub into a nice tile shower, or have a walk-in shower built, we'll be able to help you build your new shower space so that it could rival the bathroom experience of any 5 star or luxury hotel.
Shower Remodeling Services Dodge County WI
Remodeling existing showers
New shower construction
Master bathroom shower remodels
Tearing out an old shower and replacing it
Tile or stone shower surrounds
Walk-in, curbless, and barrier free showers
Glass shower enclosures
Custom shower benches
Shower lighting options
New shower head installations
Digital shower controller installations
What Are Some Great Shower Remodeling and Renovation Ideas For Your Dodge County, Bathroom?
If you've just a bought a home and the current shower in the master bathroom is over 20 years old the experience you're left with before, during, and after every shower probably leaves something to be desired!  If you've ever stayed in a luxury resort, hotel, or spa, you've probably already experienced showering in an awesome shower, and you probably have a few ideas you'd like to see for your own shower.  Here are a few things for you to think about as you gather ideas to help you make a decision for your own shower remodel.
Tile or Stone Shower Surrounds and Floors
It's tough to beat the crisp, clean, feeling that natural stone or tile deliver your feet when you shower.  Available in so many colors and styles that it can work in any bathroom, especially if you've chosen neutral/natural colors.  A really good tile installer can really bring your shower to life using contrasting tile designs, custom accents, tile shower niches, stone benchs to rest on during your shower, and more.  Tile is certainly the most expensive product for a shower remodel, but it's the labor required to properly install it that contributes to the cost.  Tile installations are very intricate and trick jobs, especially for a wet area such as a shower.  If the job isn't done the right way, and the shower pan leaks, you run the risk of causing structural damage to your home.
Custom Shaped Showers
You don't have to go with the same old square or rectangular shower anymore.  Now we see showers coming in all shapes and sizes to maximize the available space in our clients bathroom.
Showers can be curved, rectangular, square, and can be custom fit so they tuck into the smallest bathrooms.
Shower Shelves and Seating
With a larger shower, especially walk-in and barrier free showers, it's not uncommon for a homeowner to want to install shelving or possible seating.  Shelves in the shower are nice to get rid of the clutter and keep your bath products out of the way.   Having seating in your shower though, is a very popular option should your new shower have the room. If you like to relax in the shower after a long day at work a nice tiled shower bench is a great way to just sit and enjoy your showering experience.
Digital Shower Controllers
If you've ever messed with the faucet on an older shower to try and get the water temperature just right you'll love all the features of a modern digital shower controller.  With the push of a button you can set the water to a consistent temperature and never fuss with it again.  There are many modern digital shower controllers on the market and depending on your budget they can be really fancy too.  Some of the shower controllers allow you to not only control the temperature but also the shower jet settings on the shower head so you can get that perfect spray pattern, you can set the duration of the shower and some even have water conversation modes as well to keep the energy bills down.
Brad's Construction can install a variety of digital shower controllers from the top brand manufacturers such as Kohler, Moen, and Gowe.  We can install a digital shower controller for both high and low pressure water systems, we can take care of the plumbing, wiring, and more.
Installing Better Shower Heads
Shower heads are a very personal choice and if you have an older shower with an old shower head then you would probably agree there is room for improvement in this department!  If you often shower with your partner then there are even dual shower head systems that mean you'll always have the hot water! It might seem like a small touch but choosing the wrong shower head will just lead to showering disappointment.
Shower heads are a great opportunity to add a little style to your shower too with many different finishes available and in many different styles too such as modern styles, classic styles, luxury or spa-like, or even antique looking shower heads if you have a heritage home and want to keep that ambience.  Maybe you'd like to have a hand held shower head that can be removed when you need it?  Or maybe you'd like to have a shower head with a built-in massage setting or one that even works with aromatherapy oils to infuse your shower mist with therapeutic benefits.  These are all options with modern shower heads.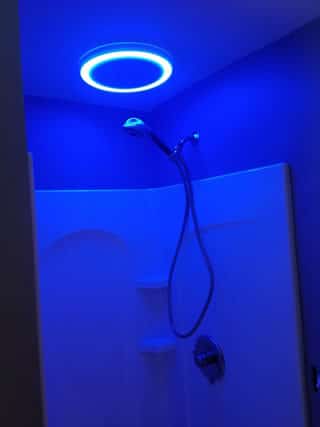 LED Shower And Bathroom Lighting Systems
If you want an enjoyable showering experience you cannot overlook the lighting in your shower.  The right lighting has a dramatic effect on any shower remodel and the overall look and feel of your bathroom.  Some homeowners choose to have a variety of lighting styles so you can have some bright lighting to help wake you up in the morning, and then you can have some softer mood lighting for those evening showers before bed.
LED light fixtures use a fraction of the power of a standard bulb and many manufacturers make waterproof LED lights and fixtures that are perfect for use in a wet environment like a shower.  There is many different styles of LED lighting from flush mount fixtures to recessed lighting to shower heads that light up and even LED bulbs that you can control the color so you can set the right ambience with dynamic mood lighting.
Shower Shelves and Seating
With a larger shower it's not uncommon for a homeowner to want to install shelving or even seating.  Shelves in the shower are nice to get rid of the clutter and keep your shampoos and bath products out of the way.   Seating is a very popular option should your walk-in shower have the room especially for elderly customers or those who have mobility issues. If you like to relax in the shower after a long day at work a nice tiled shower bench is a great way to just sit down and enjoy your showering experience.
Glass Shower Enclosures and Doors
The old days of a beat-up, and annoying shower curtain that just gets in your way are over.  Most modern shower remodeling projects remove the shower curtains and make way for more classy options.  See through glass enclosures are becoming very popular if you'd like to give your bathroom the illusion of being much bigger than it really is.  You can use frosted glass if you want to keep your showering privacy and frosted glass comes in a variety of different styles and patterns to look great in your bathroom. Maybe you want beautiful tile or stone for a shower surround?  In that case a glass enclosure is the only way to go so your shower can be seen and you can enjoy the beautiful design and texture.
Brad's Construction Specializes In Shower Remodeling
Brad's Construction is a local bathroom remodeling contractor based out of Dodge County, WI.  We provide shower remodeling in Beaver Dam, shower remodeling in Fond Du Lac, and shower remodeling in Mayville.  Whether you're looking to build a brand new shower in a bathroom that never had one, remodel an old shower in an existing bathroom, or convert a shower into a safer space like a walk-in or curbless barrier free shower, the team at Brad's Construction can help.
When you choose to work with Brad's Construction for your shower remodeling or renovation project you are partnering with a small team of talented and dedicated craftsman.  We take your commitment to your home seriously and that will reflect in everything we do while making your home a better place.  We'll treat your home as if it were our own, this includes a clean job site, quality craftsmanship, and an excellent customer service experience.
We are passionate about transforming showers and bathrooms into better, more modern, and usable spaces.  It's through generous and enthusiast word-of-mouth advertising from our many happy clients that our company continues to grow.
To schedule an estimate for your Shower Remodeling projects please call (920) 763-5779 or fill out our contact form and we'll get right back to you.