Are You Considering Energy Efficient Windows For Your Wisconsin Home? Read This!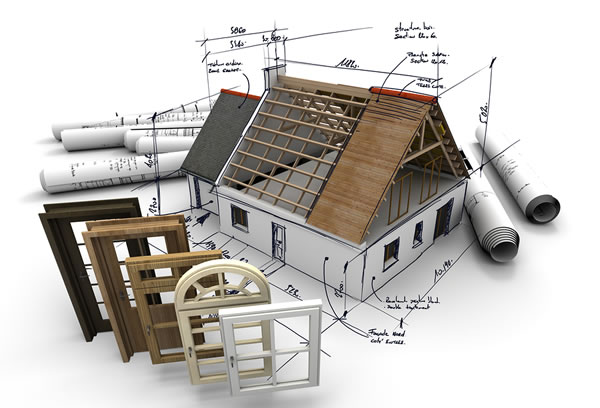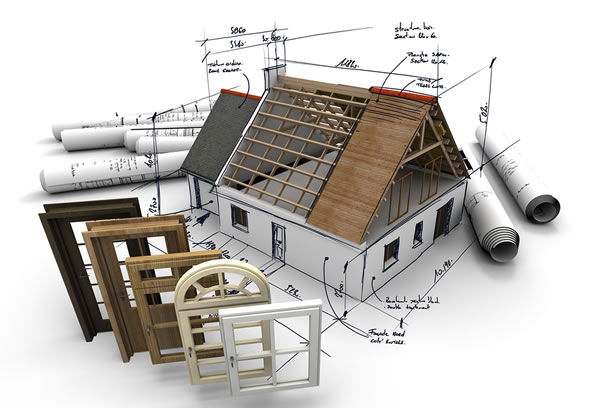 There is a much information out there for the homeowner who is looking to make their home more energy efficient.   One of the most common home improvement projects to improve energy efficiency would be new energy star rated windows.  If you own an older home let's say more than 20 years old and the windows have never been replaced then your home would be a good candidate for a full window replacement.
If your home was built within the last 10-15 years it's a pretty good chance you already have energy efficient windows and if they need replacement already it's likely due to poor installation or just a poor quality window in general.  For this sake of this article the homeowner who has a 20+ year old home with single pane windows will find this reading to be helpful.
Can You Improve The Energy Efficiency Of Your Existing Windows?
Often due to poor installation practices a window won't be sealed properly.  If you've ever felt around your windows in the winter time you might notice the cool air that sometimes drafts in from around the edges.  If you have many windows in your home like this you can see how it would begin to cost you additional money in heating expenses!
You can solve this problem by caulking the windows correctly and making sure the weather stripping is installed properly and still in good working condition.  You can buy window caulking from any local hardware or building supply store.  This will only solve your issue if the gaps between your window and the framing of your home are less than 1/4″ or so.  Any worse than that and you'll need the help of a professional or you'll need to order new windows that are properly sized for your openings.
Choosing The Right Energy Efficient Window Design For Your Home
This is where working with a professional home improvement contractor will help you.  Window choices can be confusing, especially when you start to factor in all of the different styles and energy performance ratings.
For most homeowners, the choices are simply too overwhelming and then couple that with an aggressive window salesperson and you might make a hasty decision and get a window you aren't really happy with.
Determine Your Climate
Here in Wisconsin we aren't exactly blessed with warm winters so this should be a major consideration in your choice.  For our climate you want a window that will perform very well in extended cold weather periods and that offers the maximum insulating properties you can afford.
ENERGY STAR® has established minimum energy performance rating criteria by climate.
These ratings don't take into account the specific layout of the home, the window positioning or installation so again, it's important that you know and understand the ratings and what they mean.  A good home improvement contractor won't have a problem walking you through the choices.
Your windows are an important element in passive solar home design.  Passive solar uses solar energy at the site (your home) to provide heating, cooling, and lighting for a house.  Your window can perform all of those tasks.  The basic window guidelines remain the same—select, orient, and size the glass in your home to maximize solar heat gain in winter and minimize solar heat loss in the summer.
If you're constructing a new home or doing some major remodeling, you should take advantage of the opportunity to incorporate new windows as an integral part of your approach for building an energy-efficient home.
Selecting The Window Style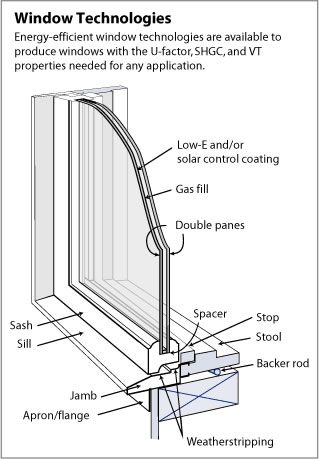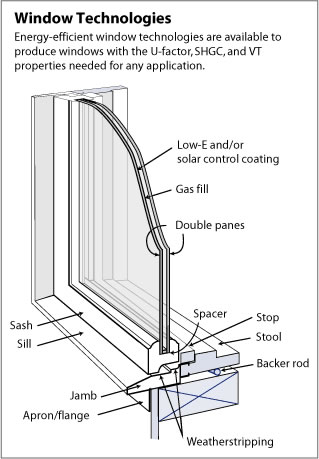 Aside from the Energy Star rating on the window efficiency you've also got a wide variety of window styles to choose from as well.  Before you can decide on the style we need to determine what room of your home the window will be going in and how many windows you'll need.  Considering the average home has more than 15 windows you'll need to make decisions for all 15 windows (if that's how many you are replacing).  This means you're going to be making a lot of choices!
How do you want the window to operate?  Will it just be clear glass without the ability to open or close?  Do you want a sliding window?  A double hung window?  Maybe you'd like to have a window made for a custom opening in your home?
Energy Efficient Window Installation Wisconsin
Even the most energy-efficient window must be properly installed to ensure they perform to their maximum energy efficiency. Therefore, it's best to have a professional install your windows.  Many people choose the do-it-yourself route and the installations end up causing problems sooner than later.
Window installation varies depending on the type of window, the construction of the house (wood, masonry, etc.), the exterior cladding (wood siding, stucco, brick, etc.), and the type (if any) of weather-restrictive barrier.
How Fast Will Energy Efficient Windows Pay For Themselves?
If you are looking into energy efficient windows solely because you think it's going to save you tangible money, stop right now.  The initial outlay for new windows and their installation will far exceed any potential returns you can expect to receive in the short term.  Eager window salespeople might tell you different but we're telling you the truth.
Your decision to install new energy efficient windows into your home should be based on how long you plan to live there for, what condition your old windows are in, and if you have the available budget to pay for it.  Don't choose to install windows because you think it's going to save you money.  Those projects are long-term and it will take many years for the windows to show returns.  You're doing this upgrade because your home probably needs it.
Who Installs Energy Efficient Windows in Wisconsin?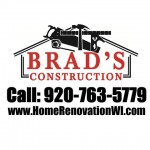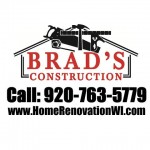 Brad's Construction is a locally based home improvement contractor working out of Mayville, WI.  We specialize in retro-fitting older homes with newer, more modern windows and other energy efficient upgrades such as new roofing and siding too.
If you'd like to receive an accurate, detailed and competitive estimate to replace one, some or all of the windows in your home then give Brad's Construction a call today or fill out one of our online forms and we'll get back to you right away.