Are You Really Ready To Completely Gut and Renovate an Investment Property?


Are You Really Ready To Completely Gut and Renovate an Investment Property in Dodge County, Wisconsin?
For a property buyer looking for an investment, there are many homes in Dodge County WI that are great candidates for a full gut and remodel. Homes that have been foreclosed on, neglected homes, homes with out-of-town-owners, or estates can all make for great opportunities for someone willing to invest the money to-fix the home up to modern (and desirable standards) for a growing rental market in Dodge County, WI.
What's Really Involved? And How Do You Know What Home To Buy?
There are houses coming onto the market at a regular pace and without the knowledge of an experienced construction contractor on your side, you might be taking a big risk. To a trained eye, there are many "red flags" that can be quickly discovered with a thorough inspection of the home.
Just because a home has been neglected, foreclosed upon or maintained poorly certainly doesn't mean the home cannot be fixed and brought up to modern standards. It's the underlying issues, aside from the cosmetic stuff that can be very costly to repair such as foundation issues, mold (this brings about a whole new set of rules!), was the home used for illegal activity that might not be disclosed? Are there are any water issues if the home is on a well? There are many "deal breakers" when it comes to finding the right home to gut and remodel to use as a rental or investment property.
A Home Remodel Of This Size Is Made Of Many Small Projects – Each With It's Own Challenges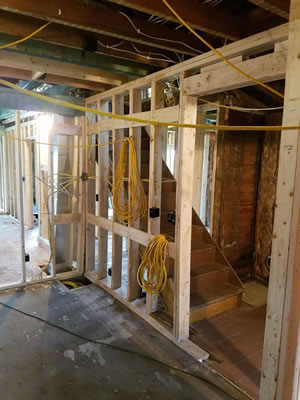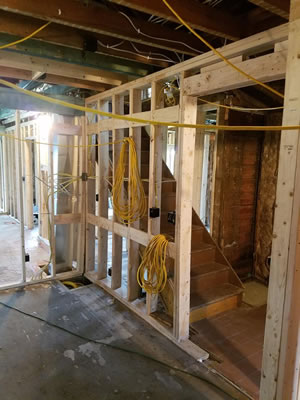 How Are The Bones Of The Home?
Is the foundation of the home sound and without any cracks or a leaky basement? Is the framing solid sound without any rot in the walls or ceilings? Have there ever been any major repairs to the home, or major remodels that may have been completed? (a red flag that you might find issues inside the walls if the job wasn't done professionally the first time!).
If the bones of the structure aren't solid, the cost of your project just grew exponentially! Taking on a home gut and remodel on a home without solid bones is "opening a can of worms" that can spiral in costs, sometimes exceeding the cost of a rebuild. Professional advice from an experienced construction contractor is golden, should the home you are looking at remodeling be questionable.
Look For Opportunities To Increase The Value
Maybe the previous owner of the home never finished the basement and it's a big unused space just waiting to be remodeled into something fresh and exciting? Without a separate entrance or proper egress windows in place a basement in Wisconsin cannot be considered "living space". By adding an entrance or it not only creates new living space (which increase the value of the home substantially) it also creates an opportunity for someone willing to remodel the basement into another rental suite.
Are there outbuildings that can be converted to a better use? Does the property have commercial zoning? Is the property in a desirable location with up and coming development? There are many signals that educated investment buyers are watching for when deciding on a property to buy.
Remodeling The Exterior Of The Home?
It's amazing what a good exterior transformation can do to the appearance of a home. It can transform the home from that one property on the street that stands out for all the wrong reasons into a beautiful, head-turner of a home with rock-solid curb appeal that will delight potential buyers or renters and make the neighbors green with envy.
The exterior condition of the home will give your builder or construction contractor a very good indication of what "the bones" might look like underneath all those layers.
For example, if your contractor discovers an area of the roof that has sunken slightly, or maybe it's a leak from some poorly installed roof flashing that has gone undetected for quite some time, these are clues you want someone with the knowledge and frame-of-mind to be looking for because they can save you money! Potentially Thousands and thousands of dollars!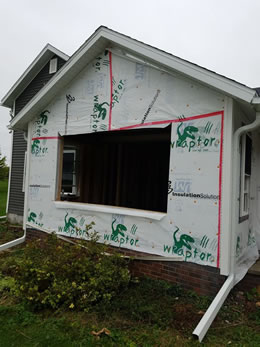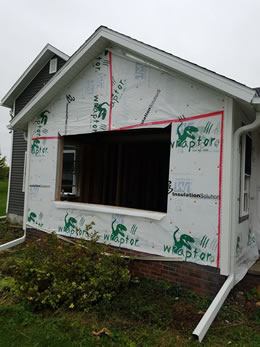 As with any full exterior remodel on a home you're remodeling for an investment you're looking at replacing the siding material or at the very least re-painting, you'll probably be looking at a new roof installation and don't forget new windows. New home buyers and renters alike are looking to buy or rent homes with good energy efficiency and windows are one of the most important upgrades one can do for an older home.
Depending on your budget for the exterior there will be a variety of material choices that you can make.
If the home is being purchased as an investment to resell or rent for long-term then keep the exterior appearance in-line with the other updated homes in the neighborhood, you don't want the home that stands out like a sore thumb because it's appearance doesn't jive with the rest of the neighborhood, this often has an opposite effect on value and doesn't make much sense for an investment property.
Remodeling The Interior Of The Home?
If getting a brief description of the making over the exterior of the home isn't enough to deter you from a project of this scope, just wait until you get digging around in the interior! If the home has suffered from water damage or has mold issues then you're going to be in for a very costly rebuild. Don't forget about the wiring/electrical and the plumbing, they will add up to a considerable cost and often on older homes, or homes that haven't been maintained you can expect to find problems with these systems and upgrades are needed more often than not.
Some common upgrades for home interiors going through a full gut and remodel would be new kitchen cabinetry, possible drywall repairs or finishing, painting, new flooring (usually a laminate, hardwood or tile floor is chosen over carpet), bathroom upgrades and you'll want to top it all off with some finishing touches like trim around doors and windows, baseboards and more.
If your goal for this investment is to be "liveable" for someone who would like to buy or rent the property then you don't have to spend a fortune remodeling but you do need to spend the money in the right areas, that are going to make a difference in how others will perceive living in the home. Modern and comfortable are usually high on the list for potential renters/buyers.
What About The Sewer System?
As contractors, the sewer system isn't something we specialize in but we know from experience it's a very expensive system to have worked on, for any home. If the home you are looking at purchasing for an investment has mature trees on the property or it's been many years since the original sewer system connections were put in then a plumbing/sewer inspection can be money well spent. For a few hundred bucks they can inspect the plumbing system with a camera to make sure there are no tree roots or broken sections of pipe that could lead to expensive problems such as a sewage backup.
What About The Landscaping?
The landscaping for a home or property that you are trying to turn into an investment can make up nearly 20% of the value of the property! It makes sense to try and invest some money into the landscaping and some properties can present you with a real diamond in the rough that can look fantastic after a good clean-up.
It's the simple things that make a difference in the landscaping such as trimming trees that touch or overhang the home, trimming shrubs and bushes that have been neglected, cleaning out garden beds of debris and maybe laying down a fresh layer of mulch for a uniform appearance. You could also consider edging the lawn, refreshing flower gardens with new plantings or even power washing dirty hardscape surfaces such as patios, decks or driveways. Most of these small landscaping projects involve sweat equity and not expensive skilled trades like plumbers or electricians.
What Does Whole Home Gut & Remodeling Cost?
It's impossible to answer this question over the Internet, without viewing the property first hand. Even then, when you are gutting an older home that has been through foreclosure or poorly maintained you need to account for surprises. We've worked on whole remodeling projects that cost from $30,000 all the way up to $250,000 or more! If you have a potential home that you are looking at buying for the purposes of an investment then DO consider hiring a licensed, experienced contractor to view the home and give you a realistic expectation of the costs and scope of the project.
Who Specializes in Whole Home Gut and Remodeling Projects in Dodge County, WI?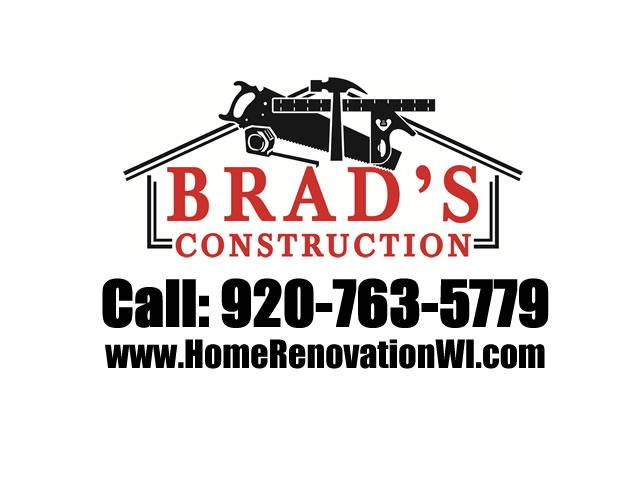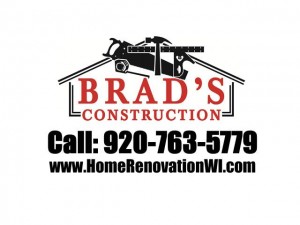 Brad's Construction is a general construction contractor based out of Dodge County, Wisconsin. We serve Mayville, Beaver Dam, Fond Du Lac, Hartford, Waupun, West Bend and more. We have extensive experience with full-gut remodeling projects on homes that have been neglected or foreclosed on.
We are also licensed and certified for some of the most difficult and challenging full home remodeling projects that could include asbestos abatement, lead-contaminated paint, water damage or mold remediation. If you've singled out a potential property and would like to have someone knowledgeable provide you with an estimate on the scope of work we are happy to provide this service for a small fee that can be applied to the cost of the project should you choose to move
If you've singled out a potential property and would like to have someone knowledgeable provide you with an estimate on the scope of work we are happy to provide this service for a small fee that can be applied to the cost of the project should you choose to move forwards.
We have to charge for these estimates as these are very time-consuming and we must go into great detail, consuming several hours of our time. The value providing to you, the investor looking to buy a home that has to be remodeled, is huge. We could save you thousands and thousands of dollars.
If you'd like to to schedule one of the experts from Brad's Construction to come and view your full-gut remodeling project for an estimate please give us a call or fill out our online contact form and someone will be getting right back to you.