Composite or Wood Decking What's The Best Choice?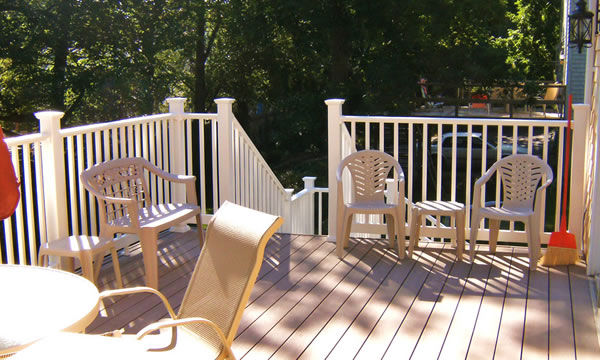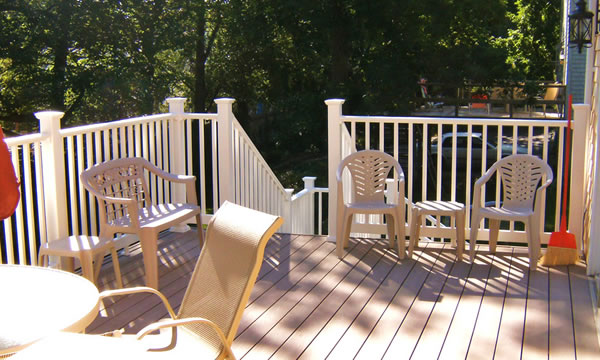 Many Wisconsin homeowners will be building new decks onto their homes and properties this spring and summer.  It's one of the most popular home improvement projects for a reason.  A new deck looks great, but also offers many years of enjoyment for most families.
With so many different choices available for decking materials how do you know what your best option is?  Many specialized deck builders seem to be pushing whatever particular product makes them the most money, but is that really going to get you the best deck for your home?  When it comes to building a custom deck onto your home you've basically got two choices for materials.
Standard and natural wood decking or some of the more modern composite decking products.  So should you build your deck from composite materials (plastic and PVC) or should you use natural wood?
Wood Deck Builder in Mayville Wisconsin
There are three different categories of natural wood decking materials that we use on Wisconsin homes.  Starting with the most popular it's pressure treated lumber, followed by the more expensive and luxurious looking cedars and redwoods.  Lastly we have even more expensive tropical hardwoods such as Ipe prounounced (eepee) which are tough to find at local lumber yards so we're not going to go into great detail about them.
Pressure Treated Lumber Decks Mayville, WI
Pressure treated lumber has been the most popular decking material for North American homeowners for decades.  It's readily available at local lumber yards, it's surprisingly affordable and is very well suited for the purposes of a deck.  Pressure treated lumber is often thought to only come in one sort of ugly green color, but not anymore… Now you can get pressure treated lumber with red or brown hues as well.  It can also be painted if you'd like as well.
Pressure treated lumber is almost always used for the framing and structure of decks that are being faced with composite materials too.  Because of it's rot resistance and ability to maintain contact with the ground for many years pressure treated lumber is an obvious choice for decking and outdoor construction period.
Cedar Deck Construction Mayville, WI
If you want the natural wood look, then it's pretty tough to beat the rich coloring and rustic red beauty of Cedar.  One of the interesting qualities about Cedar (and which makes it perfectly suited for deck construction) is that it contains many natural oils and tannins that help prevent rot and insects from damaging the wood.  This is a natural defense and not human intervention with a bunch of harmful chemicals that you'd find in pressure treated lumber.  Cedar is usually very easy for a builder to work with and will resist warping and splitting much better than pressure treated lumber.
There are many different grades of cedar and redwood and this will affect the overall price of your deck.  Usually the straighter the board, with the least amounts of knots will be the most expensive when you're shopping for cedar decking material.
Composite Deck Building Materials
Composite Decking Materials
Composite decking is a product made from natural wood fibers and recycled plastics.  The resulting product is very strong, offers high resistance to the elements and will never need to be sanded or painted because it only comes in a small selection of colors at the moment.  Your maintenance will involve a thorough cleaning once or twice per year (depending on the mold/algae growth) with a pressure washer.  There are many manufacturers making composite decking materials such as Trex, and Fiberon.  The one major drawback to composite decking is that it will fade overtime due to the UV from direct sunlight.  Some manufacturers now offer protection against though.
Common Plastic Decking Materials
Plastic decking made by manufacturers like Azek are made entirely of recycled plastic materials.  They are very weather resistant, won't stain, don't require painting and will be as straight as the day you installed them in 10 years down the road.  Plastic or PVC decks require different methods of putting them together and usually require special fasteners and other trim pieces you wouldn't otherwise need with a wooden deck.  This will raise the cost of the deck, but that's compensated for by the fact you'll have a very nice looking deck for many years.
Who Builds Custom Decks In Mayville WI?
Brad's Construction is a full service home improvement contractor based out of Mayville, WI.  We specialize in the design and construction of beautiful decks out of a variety of popular materials.  It doesn't matter if you'd like to build a new wood deck or something out of composite materials our experienced building crew will be able to accommodate you.
If you've been planning the addition of a new deck onto your home then give Brad's Construction a call today or fill out one of online forms and we'll get right back to you.