Interior Home Remodeling – What Are You Really In For!?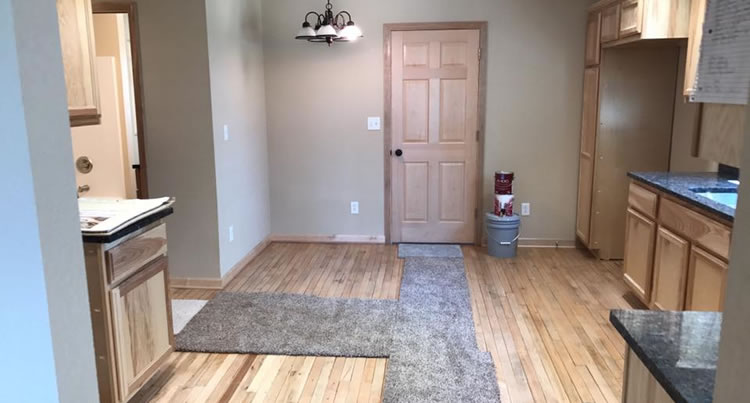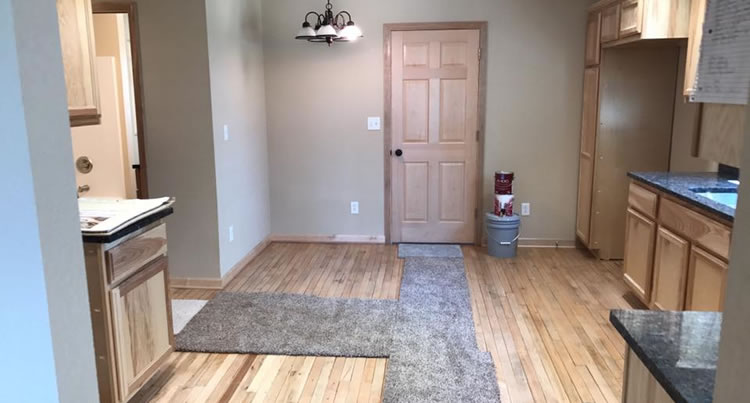 Interior home remodeling projects often start small but can quickly grow out-of-hand, or at least what you perceive to be out-of-hand, if you don't really know or understand the processes involved with remodeling a home interior.  Have you just purchased a new-to-you home in the Dodge County area?  Are you looking to remodel the interior because you'd like to update the home interior or because you need to alter the home to better suit your family?
If you haven't guessed by the questions, our first question is usually "what do you want to do with your interior space".  The next question out of a contractors mouth is usually "what is your budget for this project?".  Some homeowners get taken aback by a question so direct, but it's to your benefit.  Many homeowners who wish to remodel simply don't understand how much good quality construction costs, the material costs or what their specific project might entail with regards to special circumstances, other trades and labor.
It's a disconnect that we see in our industry often and the only way to overcome it is to educate our customers on what really goes into an interior home remodeling project.
#1.  The Interior Remodeling Planning Phase:
After you've got some ideas together and you know what you'd like to do (or at least have a rough idea) it might be time to involve your contractor.  Measurements can be taken, questions can be answered, material choices can be selected and after a few calculations on your contractors part; some numbers can be sent your way.  It can take a contractor a few hours or even a few days to put together a solid estimate or work proposal for an interior renovation, especially if the coordination of sub-trades such as plumbing, electrical and/or painting is involved.
Here's How It Generally Plays Out:
A. We determine the size and scope of your project:  Many homeowners are not prepared for the actual scope of their project.
B. Research your available design options:  Remember, this is your space.  Don't rely on a contractor or a designer, you need to provide some ideas first.
C. Create Master Design Plan/Working Drawings:  For large scale projects such as a whole home interior remodel or multiple rooms it's always a good idea to involve a designer.
D. Get Rough Construction Estimates:  This is where Brad's Construction would be able to provide you with a cost estimate and potential time-line ideas for your project.
E. Select Materials and Finishes:  This is where budgets can often spiral out-of-control if you're not careful and haven't set a rigid budget to work with from the beginning.  If you are budget conscious you can save a lot of money by being a smart shopper.  Be careful buying discontinued items such as cabinetry, flooring and other finishing items as they cannot be replaced!
After all this… Construction can then begin…  If permits are required for your project (if we're moving walls and adding more square footage they will be required) they will need to be obtained prior to any construction.
#2.  Design or Not To Design:
It's a common question we are faced with from our customers.  Homeowners are often torn on whether to involve a designer in their interior remodeling project or just scratch out their own ideas and run with it.  From a builders perspective, it's always nicer to be working with a set of blueprints, that the homeowner has had a designer or architect properly sketch out and signed-off on and agreed to.  This makes job-costing much more straightforward for both parties and everyone knows what to expect.
The size and scope of your interior remodeling project will play a big role in your decision as well.  If you only want to replace your kitchen counter-tops and some flooring then involving a designer for 3D renderings and plans probably isn't necessary.  If you're going to be taking down walls, adding more space, building custom storage, or radically changing your space then it's a good idea to work with a designer.  With today's digital design software a designer can show you multiple options in layouts, material choices and colors with a few clicks of a mouse.
Yes, design/architectural fees will increase the cost of a project by several thousand dollars.  This is money well-spent if you are spending $100,000+ on that open concept new home addition you've been wanting, just as an example.
#3.  Demolition and Tear-Out Phase:
For most residential renovation projects we'll need to either use a dump trailer or have a waste container on site to handle the debris from the demolition phase of your project.  Depending on the size of the project there could be drywall, wood, carpet and other flooring, cabinets, bathroom fixtures and more.  This phase of the project will be loud, it will be dirty and it will probably inconvenience you and your family for a few days!  Fair warning!
This is also the phase of the project where you might want to be prepared for any surprises that might be hidden and exposed during the demolition.  If you've got a good contractor they were likely thorough enough to plan for and explain any potential problems with your project beforehand.  If you've hired the lowest bidder you could find… Best of luck to you.
A good contractor explains these issues to their customer so they know what to expect or not expect.  We can certainly ease any inconveniences the remodeling process might bring to your daily life to the best of our ability but in some circumstances inconveniences won't be able to be avoided.  Just know, it's all going to be worth it in the end.
#4.  New Construction Begins:
This is always an exciting phase of any remodeling project as you'll begin to see the vision you've had slowly start to take shape.  Again, it's noisy, it's messy but it's only temporary.  Building inspectors may visit this site, not once but several times during the construction phase to check out and sign-off on the work of each trade such as plumbing, electrical, framing and more.
#5.  Finishing Touches:
The finishing touches on any remodeling project are what really makes your interior "pop".  Installing trim and any hardware, cleaning the area thoroughly, painting the new space, and lastly fixing any deficiencies that might be spotted during the final inspections.
After your remodeling project is complete you're going to have a brand new space for you and your family to enjoy!
Brad's Construction Specializes in Interior Home Remodeling Projects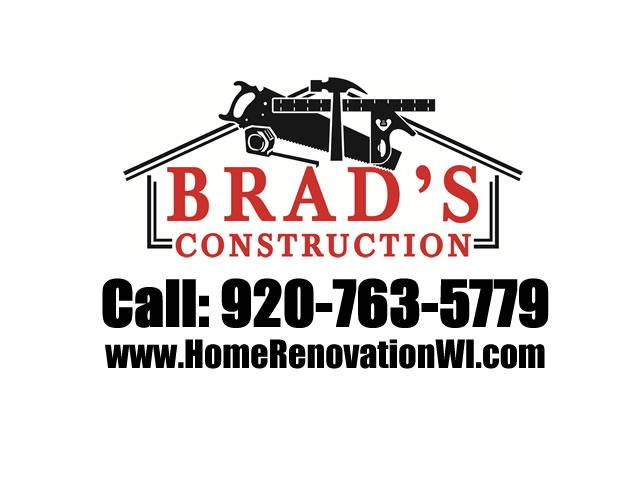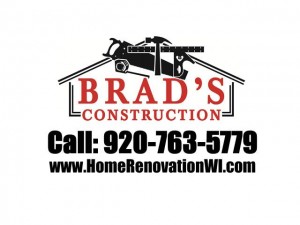 Brad's Construction is a local general contractor that specializes in residential interior remodeling projects and construction.  From remodeling a master bathroom, transforming your kitchen into that gourmet chefs kitchen, or building a home addition our team of craftsman will be able to help you turn your ideas into rock solid, finished construction for you and your family to enjoy.
If you'd like to receive an estimate for your next interior home remodeling project call 920-763-5779 or fill out our contact form and someone will get back to you shortly.