Why Would You Choose DECRA Stone Shingles To Roof Your Home?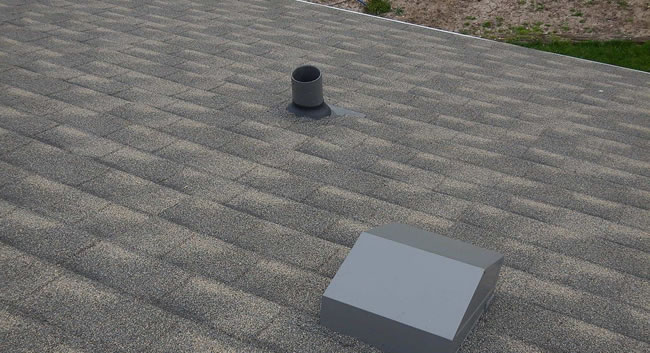 Why Would You Choose DECRA Stone Shingles To Roof Your Home?
Get The Strength and Durability Of Metal Roofing Without the Boring Look!
If you are like most homeowners, you take a great deal of pride in the appearance of your home. The outside of your home is its first impression to friends, family, neighbors and, if you're selling, a potential buyer as well.  While landscaping your property and a coat of fresh paint can do a lot to improve the curb appeal of a home, one thing really leaves a more lasting impression: a new roof.
Not only does a new roof show pride in your home, it is an indication that the home is also well cared for. When choosing a new roof, however, not all roofing materials are equal and the choice of  your particular roofing material or shingles is important. Poor building materials require expensive maintenance and replacement. A damaged roof will leak which can lead to costly water damage.
Many homeowners choose an Asphalt shingle roof because it's afforadable and  it's what they already know but this is slowly changing.  Metal Roofing is widely known as one of the most durable roofing materials on the market but with it's high price comes a relatively boring selection of architectural appeal.  The large flat panels of a metal roof don't fit into everyone's idea of a beautiful looking roof.  This is where DECRA Stone Shingles come into play.
For these reason mentioned above, and many others including roof aesthetics and appeal, more and more homeowners are choosing DECRA Stone Shingles for their home's roof.
What Are DECRA Stone Shingles?
A Brief History Of How These Shingles Came About.
DECRA is the original stone-coated steel roofing system, and these stone shingles provide unparalleled strength and durability. These unique shingles are made from a formed steel base sheet topped with ceramic coated stone granules and an overglaze. With this design, your roof will have the strength and longevity of steel, without compromising on appearance.
Most people have never heard of a DECRA Stone Shingle roofing system but the product has actually been around since World War II.
Repeated bombings on British targets by the German Luftwaffe created a need for the allies to be able to reconstruct damaged buildings very quickly.  For roofing they frequently used corrugated metal because it was available and quick to install.  The shiny reflective metal proved to be disastrous as the reflection illuminated the targets for the German Bombers.  Without fast access to oil-based paints (only the military had them) they could not efficiently camouflage these buildings.
Industrial chemists from the Decraspray Company of Kent, England solved the problem by developing an emulsion coating from coal products.  This coating would protect the underlying metal while at the same time camouflaging it from the enemy.
Throughout the war this coating proved itself invaluable as it protected valuable food storage depots that were critical to achieving an allied victory. In the years following the war, various attempts were made to remove the functional coating. However, the coating had bonded with the steel so well that removal was virtually impossible. With evidence that the underlying metal had been so well preserved, many industrialists and builders re-evaluated its potential for continued commercial use.
DECRA Stone Shingle Longevity
Weather and harsh conditions are very hard on your home's roof. Asphalt or fibreglass shingles can blow off in high winds, especially when not fastened correctly. Wood shakes are susceptible to mold, rot and insect damage because they are an organic material.
The DECRA Stone Shingles interlock so they will not crack, curl, break, warp or split. They are also warranted against winds up to 120 mph, as well as hail penetration.  With a minimum 50 years life expectancy, and superior weather resistance, the DECRA Stone Shingles will be a beautiful addition to your home for a long time!
The average homeowner running Asphalt shingles on their home can expect to replace that roofing system 2 or 3 times during the lifetime of the home.  If you plan on staying in your home for a few decades or passing the home down to family or children then a DECRA Stone Shingle roof can be a solid investment in your home.
DECRA Stone Shingles Are Sustainable
Made of steel, DECRA Stone Shingles are actually recyclable at the end of their life. Cedar shake and asphalt shingles both end up in landfills once their short lifespan has ended.  There are programs to recycle Asphalt roofing shingles but they vary from state-to-state.  DECRA Stone Shingles are very light and can therefore be installed over top of some roofing materials, diverting them from landfills. Plus your new roof will last at least 50 years before it can be recycled!
A DECRA steel roof also reduces your energy consumption which is good for the environment and your bank account. Many homeowners notice up to a 15% reduction in their heating and cooling costs. These reductions are even greater when the DECRA shingles are installed over existing roofing materials, providing even more insulation from the elements.
DECRA Stone Shingles Are Low Maintenance
Proper roof maintenance is a necessary part of homeownership. However, it is something that too many homeowners skip or do not perform thoroughly. With a DECRA roof, only a small amount of maintenance is required, which means your roof will be looking and working like new for a very long time with very little interference from you.
Cedar shake shingles are prone to discoloration and moss. These roofs need to be maintained at least twice a year to remove these growths before they lead to rot and leaks. Pesticides need to be applied, and the roof needs to be monitored for dampness and insects. It can be a big job to maintain a cedar roof!
Likewise, asphalt shingles appear to be an inexpensive roofing option, but they can be a real headache once you factor in maintenance and replacing lost singles. As with cedar roofs, asphalt shingles contain organic matter and they can be prone to moss and algae growth, especially in shady areas.  This often requires the services of a specialized roof cleaning contractor who will "softwash" the roof and remove this unsightly build-up at an up-front cost to you (usually $300 – $700 to clean a house roof).
If you would like to skip these time-intensive and troublesome roof maintenance chores, a DECRA Stone Shingle roof is an excellent choice!
Choice & Beauty
With six distinctive profiles, a number of color options, and a large selection of concealed fastener systems, the DECRA Stone Shingle roof can be customized to any home.
DECRA Tile®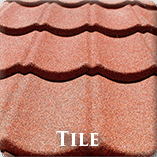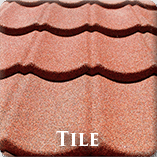 DECRA Tile®l, offers the beauty and style of Mediterranean Tile and the lightweight components of stone coated steel.  If this is the look you're after it adds a unique elegance to any home. With a long-standing reputation for performance, longevity and versatility, DECRA® Tile is an ideal alternative to traditional tile roofing products.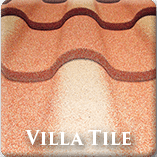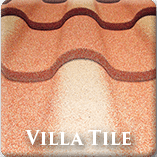 DECRA Villa Tile®
DECRA® Villa Tile combines the superior performance of steel with the classic beauty, elegance and architectural detail of an old world Italian tile. Durable and lightweight, Villa Tile requires little to no maintenance and can be walked on for maintenance purposes.
DECRA Shake®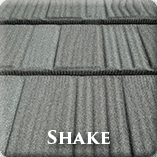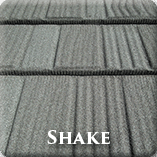 DECRA® Shake offers the distinctive beauty and richness of cedar shake, making DECRA Shake the ideal roof. It offers the distinctive beauty and richness of cedar shake, while providing the durability and longevity of stone coated steel. This superior product is available in a diverse range of colors guaranteed to complement any color scheme.
DECRA Shake XD®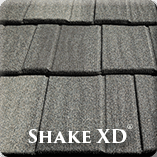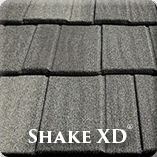 DECRA® Shake XD®, emulating the classic beauty and architectural detail of a rustic, thick, handsplit wood shake, has a unique hidden fastening system and is installed direct to the deck. Shake XD® is the ideal roof, providing the durability and longevity of stone coated steel.
DECRA Shingle®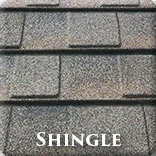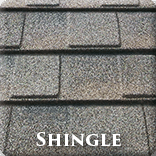 If you are looking for the upscale design of a dimensional shingle, DECRA Shingle is the choice for you. DECRA Shingle offers a classic look that features a traditional distinctive style, reinforced with the strength and longevity of steel. Available in a variety of natural earth tone colors, these colors incorporate a subtle natural shadow, which enhances the richness and detail of the roof.
DECRA Shingle is pressure formed aluminum-zinc alloy coated steel with an acrylic bonded stone chip finish. The stone coating resists fading and UV penetration.
DECRA Shingle XD®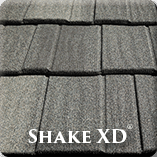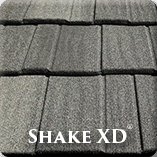 DECRA® Shingle XD® has the rich bold appearance of a heavy weight architectural shingle at a fraction of the weight. With its thick cut edges and deep distinctive shadow lines, DECRA® Shingle XD® provides greater dimensionality and a robust appearance. This profile adds wonderful appeal to traditionally styled homes and is ideal to those who prefer the look of heavy-cut wood shingles.
A new steel roof makes a stunning impression, and can really transform the appearance of your house. The shingles are coated in stone granules and can be textured to appear as though they are other roofing materials like cedar shake or clay tile. This makes them incredibly versatile and appropriate for both modern and traditional homes.
Your home's curb appeal is more than shrubs and paint! A new DECRA Stone Shingle roof can transform an old, worn home into the envy of the neighbourhood. With unmatched longevity and durability, your roof will make a stunning impression for years to come.
Who Installs DECRA Stone Shingles in Wisconsin?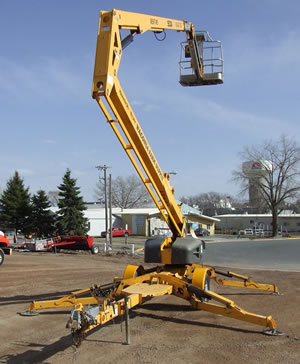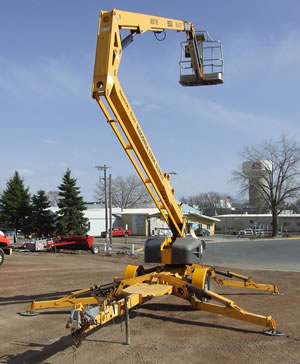 Brad's Construction is a home improvement contractor based out of Mayville, Wisconsin.  We specialize in DECRA Stone Shingle roofing systems for homes of all shapes and sizes.  From your average family sized rancher to a townhome or duplex to a multi-million dollar estate home we'll be able to offer a roofing solution.  With unmatched knowledge on the various roofing systems, an expert team of installers, and pricing that can compete with any local contractor you'll find we'll leave nothing behind on your property aside from your meticulously installed new roof.