Getting Your Dodge County Roof Ready For Fall And Winter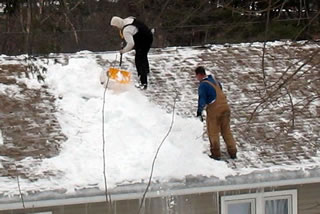 As we roll through September the Wisconsin summer is unfortunately coming to an end.  The rainy season will soon be upon us, followed with the winter snow and ice conditions we seem to have every year.  Your roof is about to be tested!  The fall and winter brings rain, moisture, hail, snow, and ice.  As a homeowner you want to protect your investment and it's important to stay on top of your home maintenance.
One area of home maintenance you should really be giving attention to is your roofing system.  Your roofing system consists of many parts including your roofing shingles, roof flashing, roof ventilation, and even your gutters.
As a professional roofing contractor, we receive phone calls every spring from homeowners who've had winter weather damage to their roof, whether it's the result of a poor quality installation by another company, the roof is leaking, or they have an ice dam problem, many winter roofing issues can be spotted and fixed before become major problems.  If you can prevent your home from sustaining damage by preparing your roof for winter you'll save money and keep on top of problems as they arise.
If your roof is already failing is in bad shape and you know it probably needs to be replaced, you still have a few weeks left of good weather to get that done but the window is closing.  If you want to ensure you have a good roof for this winter then the time to act is now!  You will have a harder time trying to find a good contractor to replace or repair your roof during the winter as it can become very dangerous and cumbersome to complete roofing work.  Now is the time to have your roof inspected, repaired, or replaced.
Preparing Your Wisconsin Roof For Winter
#1.  Professional Roof Inspection.
You can certainly grab a ladder, climb up on your roof, take a look around, and if you don't see anything obvious, you climb back down, and call it a day.  Did you even know what to look for?  Did you know what areas might be more prone to leaking than others?  Did you check the condition of the shingles?  It's an entirely different procedure when you have your roof inspected by a pro.  There might be issues with your roofing system that you can't just spot with a quick glance.  It will take an experienced eye to really find them.
Your roofing system has many different parts that all work in synergy to keep the weather (and the water) out of your home or building.  A professional roofer will be looking for issues with your roof that you might miss, and if they find issues, they could potentially save you thousands of dollars in home repairs.
At Brad's Construction we offer roofing inspection services so homeowners can be better repaired for winter.  We're certified installers for Owens Corning roofing products and we know roofing systems inside and out.
Here's What We Look For During A Roof Inspection
There are a number of things we're looking out for when inspecting a roof prior to the wet and cold fall season.
#1.  Is there any obvious damage to the roof or shingles?
#2.  Is the roof leaking currently, if so, do you know where from?
#3.  Do you have adequate attic ventilation for your home? (ice dam prevention)
#4.  Is all of your roof flashing still in-tact and installed properly?
#5.  Are any of your roof vents loose or cracked?
#6.  Do you have drip edges installed where the roof meets your gutters?
#7.  Have you had ice dam problems in years past?
#8.  Is your roof decking or sheathing soft or rotten?
#9.  Can we see any troubling issues with a quick attic inspection?
When you call us for a pre-winter roofing inspection we'll send one of our roofing experts up onto your roof to take a thorough look.  They may also want to have a look inside your attic as well, because roofing issues can often be spotted from within your attic.  For really steep or dangerous roofing systems we can actually use our drone technology to inspect your roof.  We have a drone with a high resolution camera that can be flown along your roof line to inspect the areas that might be spell trouble.  We can see flashings, dormers, around your chimney, your gutters, vents, and more.
#2.  What If a Problem Is Found With Your Roof?
If a problem is found with your roof you should have it repaired right away.  When we complete a roofing inspection, if we spot problems that are in need of repair, we'll provide you with an estimate to fix them for you.  In many cases these repairs can be completed within a few days of discovering the problem.  The whole idea of a pre-winter roofing inspection is to spot troubling problems before they become very expensive problems that cause damage to your home after a long wet and cold winter and spring thaw.
Repairs We Can Complete On Your Roof:
Replacing missing, broken, or cracked shingles.
Replacing missing roof flashing.
Replacing flashing around chimneys.
Fixing skylights that are leaking.
Replacing or installing more roof vents.
Replacing broken or loose roof vents.
Replacing rotten roof decking or sheathing.
Ice dam prevention and repair.
#3.  Clean Out Your Gutters
We don't offer gutter cleaning services but that doesn't mean we don't recommend getting your gutters cleaned before winter.  It's a really good idea to make sure your gutters are clean prior to the stormy winter weather where your gutters can quickly get overwhelmed.  If your gutters are clogged during a big rain storm they won't be able to shed water efficiently.  That water can back up in your gutters and under the right conditions can cause damage to the edge of your roof line (a drip edge can protect against this) .  Gutters that are clogged and overflowing can cause issues with fascia boards rotting away and also contribute to rotten roof decking along the edges of your roof and the water pouring over your gutter will be a nuisance.
If your gutters are clogged and then we get freezing rain or really wet snow, it's can be a recipe for disaster as the water built up in the gutters will freeze, without anywhere for additional water to go, it can eventually backup and work it's way under the edge of your roof and then your home will be susceptible to ice damming, which is never a good thing.  Gutters full of frozen water will also put a strain on your gutter hanging system too and if you have rotten fascia boards the gutters can actually fall off or break away from the fascia.
A great way to cut down on home maintenance is to have gutter covers or gutter protection installed on your home.  Good quality gutter covers will block everything but the water from entering your gutters and drainage system, saving you the hassles, and expense of cleaning out your gutters multiple times every year.
#4.  Reduce Your Risk Of Ice Dams
If you've ever had an ice dam affect your home then you know already how damaging (and expensive) they can be.  Ice dams are a serious problem for Beaver Dam and Mayville homeowners and as a roofing contractor we're called out every year to look at, and possibly try and repair the damage caused by ice dams.  In many cases the damage was preventable.
#1.  Check the edge of your roof where it meets the gutters.  Do you notice any cracked shingles?  Wavy or bowed roof decking?
#2. Do you have proper flashing installed on your roof where it's needed?
#3. Do you have sufficient ventilation through your attic and roof soffits?
#4.  Does your roof have a "drip edge" installed?  A drip edge is metal flashing underneath your shingles at the edge of your roof.  It can divert water away from the roof and into your gutters.
What Causes An Ice Dam?
Ice dams tend to occur when the snow or ice on your roof begins to melt but it cannot drain though your gutters fast enough.  The water then re-freezes in your gutters and slowly it this process continues and the ice builds up and into your roofing system.  If you have icicles hanging from your roof line, you probably have an ice dam.
Ice dams create two hazards for your roof: The first being a danger to anyone below and icicles that may fall. The second occurs to the house.  As water freezes, it expands, and can even expand underneath the roofing materials. This may cause tears in the shingles, loosening of fasteners, and even leaks.  Ice dams cause thousands of dollars worth of damages to homes in our every year and it's not always something that is covered by your homeowners insurance as they can sometimes fall under "lack of maintenance" so you'll want to check with your insurance provider.
Brad's Construction Your Local Roofing Specialists
Do you need to have your roof inspected before the wet weather arrives?  Brad's Construction is one of the best rated roofing companies in Dodge County.  We specialize in roof replacement and repair services.  If you're worried about your roof for the upcoming winter season we can help!  We are an Owens Corning Preferred Contractor and we are very knowledgeable when it comes to roofing systems and we can make sure your roof is ready to take on a winter season.
If you'd like to schedule one of our roofing inspections please give us a call 920-763-5779 or fill out our online contact form and we'll get right back to you.