Choosing A Style and Color For Your Metal Roofing System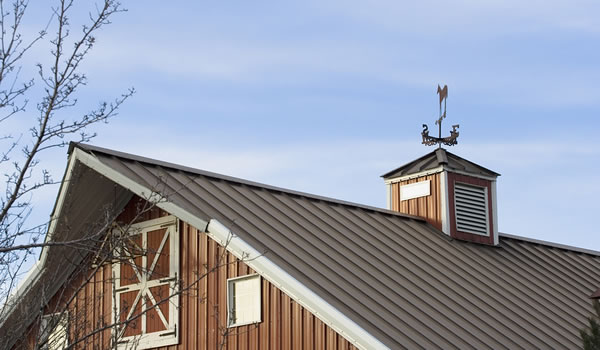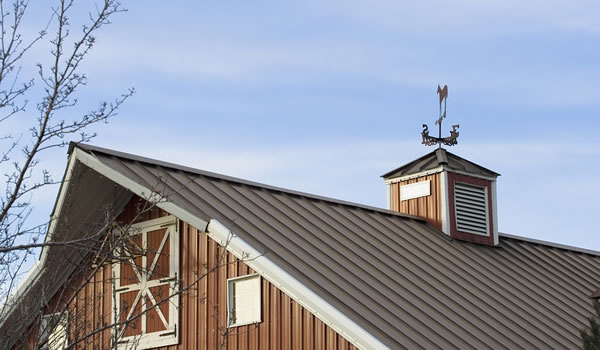 Metal roofing systems carry many advantages for home and building owners in Wisconsin.
Standing seam metal roofing is the most popular type of metal roofing because it is extremely durable and has lifespan of between 40-60 years.  Yes, it's essentially the last roofing system you'll ever have to buy providing you plan on living in your home for many years.
The color and style choices with a metal roofing system aren't quite as overwhelming as other roofing types such as asphalt shingles where there are literally thousands of choices.  Metal roofing has a much smaller selection of colors and a handful of different styles that pertain to the shape and frequency of the ribs in the roofing material.  It's important to understand a few things about metal roofing.
Standing Seam Metal Roofing Styles
When we talk about styles with a standing seam metal roofing we are really talking about the appearance of the panels themselves.  They can be flat, ribbed or striated and each one of those options can also be broken down further with varying rib designs, rounded corners on the seams, exposed fasteners or hidden and more.  Generally with sheet metal whenever you add structural bends such as a rib or striation you are adding strength to the material.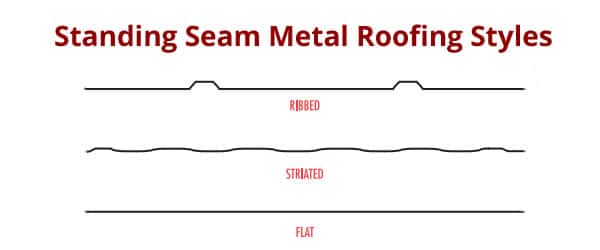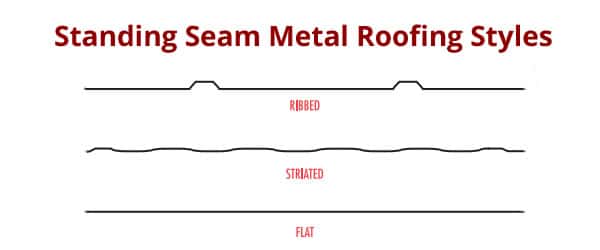 Standing Seam Metal Roofing Colors
The color choices aren't infinite with a metal roof unless of course you plan on painting it yourself, or having your roofer do it.  That's actually a silly idea considering there are metal roofing products on the market that come pre-finished with special coatings that prevent corrosion, UV damage and algae stains.  If you can narrow your color choice into the realm of about 26 colors you'll likely find one of the available options will work beautifully with your home or building.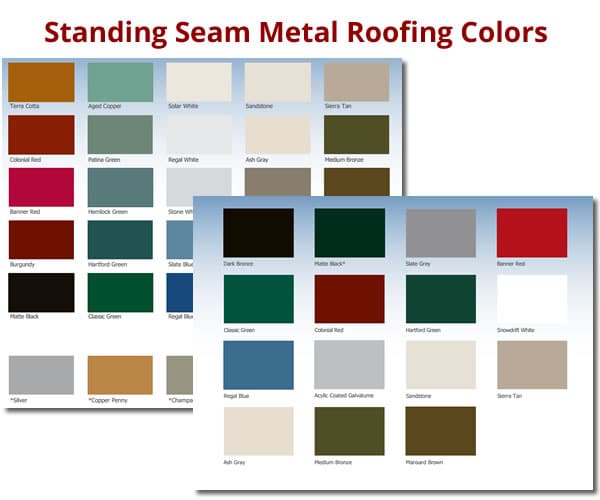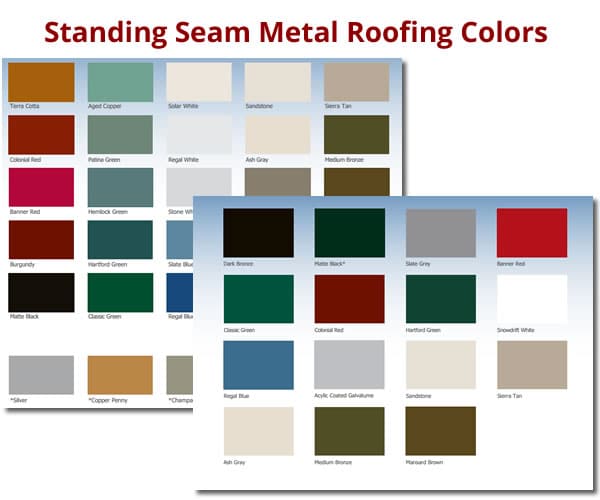 What Are Some Great Color Options?


Classic Green:  For those who want that "back to nature" or "earthy" look the classic green color is a very popular choice.


Solar White: Offers the benefits of an Energy Star rating with it's cooling effect.  The light color will help reflect some the heat back towards the sun and away from your attic.


Copper Penny: If you love the look of a copper roof but can't quite afford one than this is your next best choice.  The exterior coating closely matches the color of real copper.


Colonial Red:  A popular color choice for outbuildings, barns, and houses alike.  The rich deep red color gives a very historic look and compliments wood structures nicely.
One of the most important factors to consider when choosing a color for your metal roof is that darker colors will not have the same energy star ratings as lighter colors.  If you are planning on installing a metal roof because of the energy star rating then you want to choose the right color for your climate.
A black metal roof for example is NOT going to help you keep your home cooler in the summertime if that is your goal while it will help your roof soak up the suns rays during the winter which can help the roof shed snow and retain heat in your attic which in turn, keeps your home warmer.
Who Installs Standing Seam Metal Roofing in Wisconsin?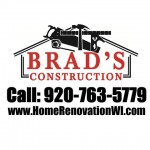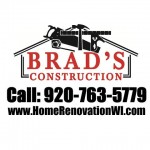 Brad's Construction is a full service home improvement and remodeling company that specializes in the sales and installation of standing seam metal roofing products.  We provide our metal roofing services to residents of Mayville, Beaver Dam, West Bend, Fond Du Lac and more.  We offer standing seam metal roofing in either a 24,26 or 29 gauge thickness and in a variety of different colors and styles to suit your home and budget.
We are licensed and insured to work in Wisconsin and we have taken part in required industry training from the metal roofing manufacturer we work with exclusively. All of the work we complete on your home or building will meet or exceed factory specifications. If you are considering a metal roof for your Wisconsin home then give Brad's Construction a call today!