Which Type Of Siding For Your Home?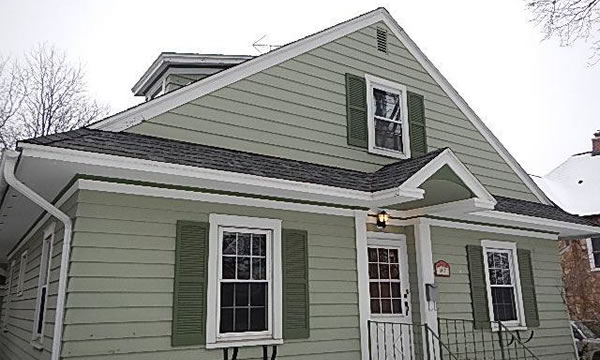 Installing new siding for your home can leave a homeowner overwhelmed with material and design choices.  With so many different siding materials on the market from many different manufacturers how do you know which type of siding material will work best with your home?
The quickest way to narrow down your choices is to come up with a budget for your siding.  Siding is generally sold and installed by the square foot and your estimate will be calculated based on this.  If you already know the square footage of your exterior than great, this will be very helpful in determining your budget.  If not, you'll need to measure the surface area of your homes exterior from the ground (or where your siding starts) to the eaves of your roof.  You can then calculate a rough square footage of the surface area.  Your siding contractor can help you take more accurate measurements.
What Does Siding Cost Per Square Foot?
Now that you have some rough measurements of your home exterior you can begin to set a budget for your siding.  Depending on the materials your siding could cost anywhere from $3.00 to $50.00+ per square foot installed.  If you have 2000 square feet of siding required, you can see how fast the costs can add up.
What Types Of Siding Are There?
There are plenty of different siding options to choose from but we're going to discuss some of the most popular with Wisconsin homeowners in this article.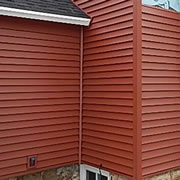 Vinyl Siding: Horizontal vinyl lap siding is the most common choice for Wisconsin homeowners, likely due to the fact that it's so affordable and readily available.  Starting at $3.00 – $5.00+ per square foot installed, Vinyl Siding is a very economical choice.  Choosing Vinyl siding doesn't have to be a compromise either as it's still a very durable, high quality home remodeling product that millions upon millions of homeowners have chosen for their homes.  There are many different colors and styles to choose from and your contractor will be able to provide you with samples and more detailed information on the particular products that fit within your budget.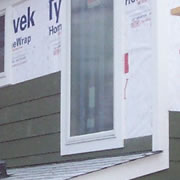 Fiber Cement Siding: Available in horizontal lap siding, and also vertical style "board and batten" style fiber cement siding is a more durable material than vinyl.  Fiber cement siding or Hardie Plank as it's often called (which is a brand name) is becoming a popular choice for homeowners looking to side their home with a higher quality product.  Fiber cement siding can vary in costs depending on it's horizontal, vertical, the color, the pattern and more but a rough ballpark would be between $5.00 and $10.00+ per square foot installed.  Fiber cement siding can also be painted to match your exterior buildings or other elements of your landscape or decor.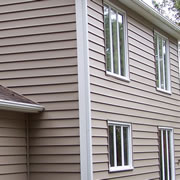 Crane Insulated Siding: Insulated siding not only looks great but it's the only type of siding that will help you reduce your energy costs.  How?  Insulated siding raises the R value (insulation value) of your home.  This reduces your heating costs and cooling costs.  Another often overlooked aspect of insulated siding is that it's also very quite and can work to reduce outside noises by up to 45%.  This means that harsh windstorm you can hear against your vinyl sided home will be nothing but a tiny whimper in your home with insulated siding.  This siding comes ready-to-install on your home.  The cost for insulated siding will vary depending on available stock so it's best to contact a local siding contractor for an estimate.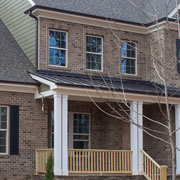 Brick and Stone Siding: Brick and stone siding options are getting into the higher end of the cost spectrum and can come in both natural and simulated varieties.  For example, it might be quite time consuming to side your entire home one brick at a time, so manufacturers create panels that can be cut to size and used to side your home.  It will look just like natural brick or stone siding but it will go together much faster.  These building materials are significantly more expensive than vinyl or fiber cement siding and will cost anywhere from $30.00 to $50.00 or more per square foot installed.  The elegant look it will give your home is priceless.
Who Sells and Installs Siding in Wisconsin?
Trying to choose a siding contractor in Wisconsin can be a difficult proposition.  There are so many to choose from, how do you know you're going to get a good product, and a high quality installation?
Brad's Construction is a full service exterior home improvement contractor serving Beaver Dam, Fond Du Lac, Hartford and Waupun, Wisconsin.  We specialize in the sales and installation of all types of siding for your home from vinyl to fiber cement to brick and stone.  If you would like a competitive estimate for new siding on your home then give us a call or fill out our form today.