Beaver Dam WI Home Remodeling Contractor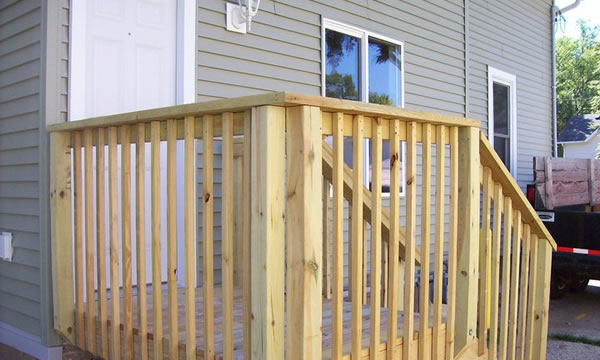 Beaver Dam, Wisconsin Home Improvement and Remodeling Services
Beaver Dam is a quite little city located within Dodge County Wisconsin.  The town is situated along Beaver Dam lake and the Beaver Dam river. With a population of more than 16,000 people Beaver Dam is the largest city in Dodge County.  The city was actually named for an old beaver dam (surprise surprise!) that was located in a stream flowing into the Beaver Dam River.
Considering Beaver Dams history, there are many older homes in the area and we get a good deal of calls from Beaver Dam home owners looking to improve, upgrade and repair their homes.  With an annual average snowfall of 61.7 inches some of our busiest services are providing homeowners with roofing replacements and roofing repairs.
Brad's Construction provides professional home remodeling and home improvement services in and around Beaver Dam, Wisconsin.  Every project that Brad's Construction takes on is as unique as the people we're working for and we really work hard to make sure it's an enjoyable experience for you.  Remodeling or Improving your home should be an exciting and rewarding experience for you and it's a common goal when you're working with us.
If you'd like to receive an estimate from Brad's Construction to work on or remodel your home or building please give us a call 920-763-5779 or fill out a form today to schedule an estimate.
Remodeling Projects We Can Do in Beaver Dam, Wisconsin:
Home Additions
Room Additions
New Roofing Estimates
Mold Remediation Services
Egress Window Installations
Exterior Remodeling
Roofing Inspections and Roof Repairs
Standing Seam Metal Roofing
Replacement Roofing
Rubber Roofing
Asphalt Shingle Roofing
Replacement Siding
Wood Decks and Custom Decks
Garage & Shop Construction
Property Preservation
Window Replacement
Soffits and Fascia
Storm Damage Repairs
203k Home Improvement Contractor in Beaver Dam, WI
Brad's Construction now offers home improvement services for FHA 203k home improvement loan qualified home buyers.  If the home you're looking to purchase needs some repairs and modern upgrades then give Brad's Construction a call today and we come and inspect the home and let you know where your FHA 203k home improvement loan would be best spent.
Well versed on the 203k program we are certified, licensed and available to provide an accurate estimate on the work.
Remodeling Your Beaver Dam Home
There are probably many different reasons you may wish to remodel your Beaver Dam home.  Some homeowners choose to remodel because they need more space, or maybe they want to modernize the look of their home, an additional rental or inlaw-suite for extra income, or even an attached garage or shop to store some of your toys.  The possibilities are endless when it comes to home improvement.
Making the decision to remodel your Beaver Dam home is one of the best ways to get a house that will meet you and your families needs for many years without having to sell and move out of Beaver Dam.  When you do eventually sell your home a few completed home improvement projects such as roofing, siding or painting can help boost the resale value and generate more positive attention from prospective buyers. Whatever your reasons for a remodel it's always best to have a professional take a look first.
When you finally decide to start your remodeling project there are many options and you'll be faced with many choices, materials, styles, prices, colors and more. Brad's Construction will walk you through all of these tough choices so you can be confident you've made the right choices for your home improvement project.
Having an experienced and professional Beaver Dam, Wisconsin home improvement contractor come out and take a look at your project will help you get a much better picture as to the costs, and time involved.
Remodeling Your Beaver Dam, Wisconsin Home Doesn't Have To Be Scary…
You can put our proven remodeling experience to work for you on any number of your home improvement projects. Give us a call, or fill out our request form and we'll be contacting you shortly. Remodeling your home can be a stressful experience if you don't have the experience of building and remodeling professionals to bounce your ideas off of and get their expert advice.
No matter how large or small of a remodeling project from a new asphalt roof on your home to a complete makeover of your exterior. Brad's Construction can help you transform any section of your home or small commercial building into something beautiful that you'll enjoy for many years.
Your project cost won't be inflated to pay for an expensive showroom, or fancy new trucks, just for the work performed on your home or business. Brad and the rest of the team at Brad's Construction are just as excited about completing your project as you are about getting to finally enjoy the finished product.
Our completed projects have been helping us generate new word-of-mouth business in Beaver Dam for many years. We understand you've got many contractors to choose from in Beaver Dam, Wisconsin to complete your home remodeling project. We just want you to know that when you choose Brad's Construction to complete the improvement projects on your home you're not just getting a contractor. You're taking on a valued partner with many years experience in making Wisconsin homes more enjoyable, more suitable places to live for families just like yours.