Pressure Treated Wood Decks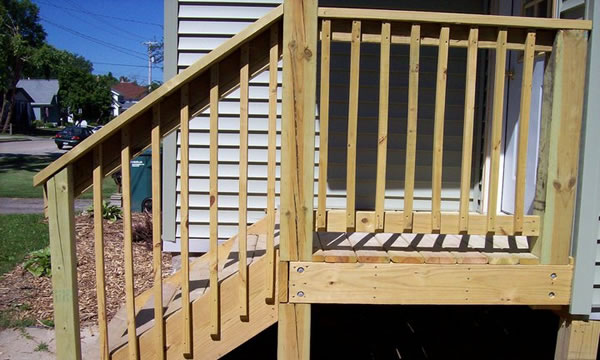 Looking To Build a New Deck Onto Your Mayville Home?
Pressure Treated Lumber is a popular and affordable choice for building your new deck.  Because of these reasons Pressure Treated Decking Material is probably the most commonly used wood decking material in the Mayville area.
In fact according to some national surveys 80% or more of all decks that are built "on site" (meaning at the customers home) in the USA are made entirely or partially out of Pressure Treated Wood.  Even though a deck might have a different decking material on the surface or even a composite material, they are still often framed with pressure treated lumber because of it's rot resistance when in contact with the ground.
As a decking material Pressure Treated Lumber carries many benefits to the homeowner.  Probably the most popular is it's affordably.  If you have the space available on  your property you can get more deck for your money if you choose pressure treated lumber.  Treated wood decks still look great and the material is relatively easy for your chosen builder to work with.
It's also available in many different grades of quality and is often found at your local lumber yards in ample supply.  You won't have to wait for any special materials to arrive.
Brad's Construction is an experienced Wisconsin deck building contractor with many decks built over the last few years.  Many of those decks have been made with Pressure Treated Lumber as the framing and decking material.
Pressure Treated Deck Building Mayville, WI:
Treated Lumber Deck Design
Treated Lumber Deck Construction
Treated Lumber Deck Stairs
Treated Lumber Deck Framing
Treated Lumber Deck Repairs
Treated Lumber Deck Refacing or Replanking
Treated Lumber Deck Posts and Railings
Building a new pressure treated deck onto your home or business is an exciting project that doesn't take an incredibly long time to build.  We can actually complete most treated lumber decking projects in just a couple of days once we've started the project and once complete you'll have a beautiful looking deck for you to relax, cook, entertain or enjoy however you see fit.