Mayville WI New Kitchen Countertops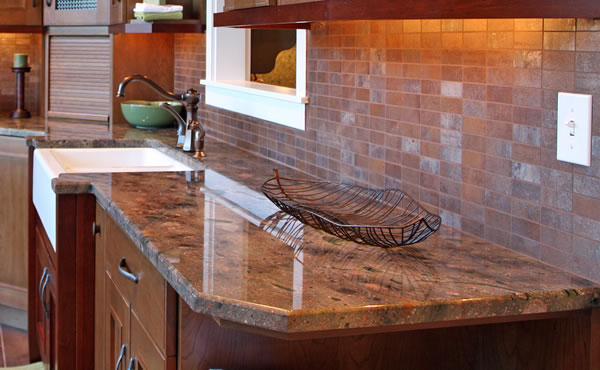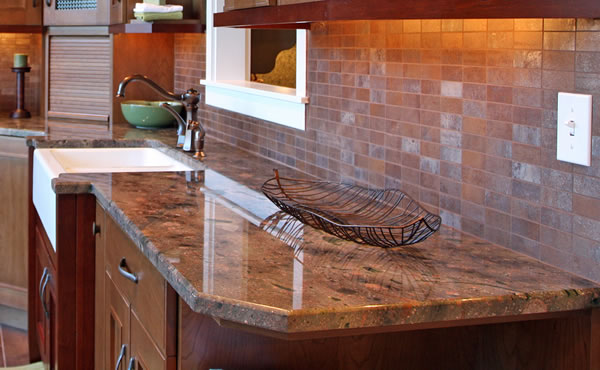 New Kitchen Countertops can make your kitchen feel brand new again.   There are some homeowners who only choose to have a specific part of their kitchen remodeled and new kitchen countertops are one of the most common projects because they make such a dramatic difference in your kitchens appearance.
When it comes to choosing new kitchen countertops there are several things you'll need to consider in your planning.  One of the most important things to keep in mind is your kitchen cabinets because your new kitchen countertops will of course be placed on top of your existing kitchen cabinets or cupboards.  You'll likely have overhead cabinets as well, so it's important to try and choose kitchen countertops that will compliment your existing decor.
What Types Of Kitchen Countertops Are There?
[singlepic id=4 w=100 h=100 float=left]Laminate Countertops:  Laminate are probably the most common and affordable countertops.  If you're working with a rental unit, or townhome then laminate is always a popular choice.  It's available in many colors and styles so it will work with any decor.  Laminate countertops are durable as well, and will stand up to most homeowner abuse.
[singlepic id=1 w=100 h=100 float=left]Corian Countertops: DuPont™ Corian® solid surface countertops are one of the most versatile countertop materials on the market.  Corian® solid surface countertops are easy to cut and custom fit and with over 100 colors to choose from there is sure to be a Corian countertop that will enhance the look of your kitchen.
[singlepic id=3 w=100 h=100 float=left]Granite Countertops:  If it's in your budget, granite kitchen countertops look awesome.  As granite is becoming more and more popular the price has slowly softened a little so it's often within many homeowners remodeling budgets.  Granite is very durable, takes heat well and won't crack if it's installed properly.
[singlepic id=5 w=100 h=100 float=left]Marble Countertops: Marble is probably one of the most expensive types of kitchen countertops. Marble countertops will also require frequent cleaning and maintenance, as it easily stains. There are sealers that can be applied to help prevent the staining.  Marble is luxurious and looks excellent in any kitchen if you have the budget for it.
[singlepic id=6 w=100 h=100 float=left]Ceramic Tile Countertops: Ceramic tile countertops are quite durable and very easy to clean.  They are also fairly inexpensive depending on what style and pattern of tile you choose to use.  Ceramic takes heat well but if an individual tile is cracked or broken sometimes the repair can be costly.  Always keep spare tiles if you have a tiled countertop just in case the pattern is discontinued.
How Long Do New Kitchen Countertops Take To Install?
Kitchen countertops can usually be installed within a day or two of receiving the countertops from the supplier.  Depending on your choices you may wait a few days to a few weeks until the materials are delivered but once that happens the removal of your old countertops and installation of the new won't take a very long time.  Again, this will obviously depend on the size of your countertops and any special installation considerations we'll need to make.
New Kitchen Countertops Mayville, WI
Transforming your current kitchen into your dream kitchen is what Brad's Construction does best. Your new kitchen countertops will improve the look of your kitchen and give you a more enjoyable workspace.
We realize that you've got many choices when it comes to new kitchen countertops  in our Mayville, Wisconsin service area. We want you to know we understand and appreciate the commitment you are about to make to your home and we take it very seriously. When you choose Brad's Construction you're choosing a partner in making your home a better place. We guarantee it!