Custom Deck Builder in Fond Du Lac WI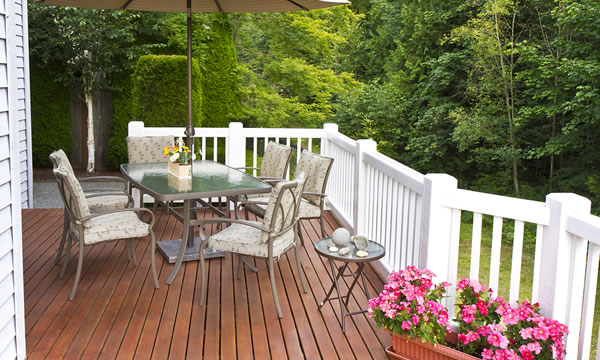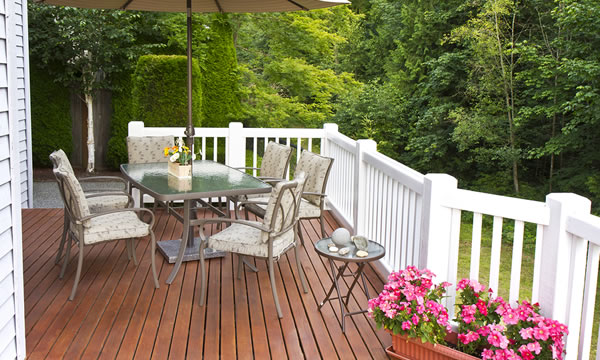 A Custom Built Deck is an excellent way to keep a natural look and feel about your property while greatly enhancing your enjoyment and your outdoor lifestyle. Most decks today are built out of wood because it's affordable and easy for your builder to work with.
Designing a custom deck for your home might seem like an easy task but there are many points you'll need to consider.  Your current landscaping and property shape,  the structure you are attaching the deck too. and more.
What about location?  Do you only have one option or several options? Do you want the deck in a shady place, or with as much sun as possible?  Do you want custom railings, or a bump-out for a BBQ or what about a covered cooking area?  There are so many options for deck design that it helps to work with a pro.
Brad's Construction has built many decks in the Fond Du Lac area over the last few years.  We can help you design the best deck for your available space and then build it for you out of either wood or composite materials depending on your budget.
While it's easy to grab a deck design plan off the Internet or by looking at pictures online when you work with professionals like Brad's Construction you're going to benefit from our experience in building decks for many other homeowners in the Fond Du Lac area.
It doesn't matter if you're a homeowner looking to build a new deck on your Fond Du Lac home, or a property manager looking to have several decks designed and built onto the units in your strata or development.  Brad's Construction has streamlined the deck building process and you won't find a more dependable, reliable deck building contractor anywhere else in Fond Du Lac or the surrounding area.
Custom Deck Design Services in Fond Du Lac, WI
Homeowner Deck Design
Townhome Deck Design
Restaurant Deck Design
Pool Deck Design
Deck Stair and Railing Design
Covered Cooking Areas
Deck Seating and Benches
BBQ bump-outs
Wood Deck Construction Fond Du Lac, WI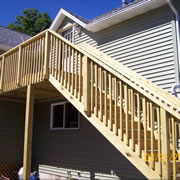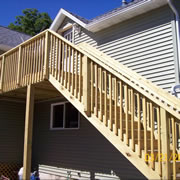 Build your deck with wood gives it the rustic, natural appearance.  From pressure treated lumber to redwoods, cedars, walnut, and other exotic woods there are many options available to the homeowner.  Wood is generally easy for your builder to work with and generally affordable depending on the species of lumber you select.  Wood decks will require regular maintenance to keep them looking good for many years.
Brad's Construction can help you design and build a beautiful new wood deck onto your home or property.[divider type="plain" width="medium" align="aligncenter" clear="clearleft"]
Composite Deck Construction Fond Du Lac, WI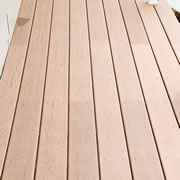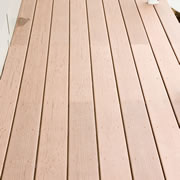 Composite decking materials are becoming very popular for several reasons. For one, they don't need to be painted.  They already come in a wide variety of colors and they are also incredibly durable, outlasting wood quite considerably.  The downside however, is that they are much more expensive than wood decks.  Brad's Construction can work with a number of different composite deck building materials.[divider type="plain" width="medium" align="aligncenter" clear="clearleft"]
Wheelchair and Accessibility Ramps Fond Du Lac, WI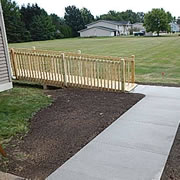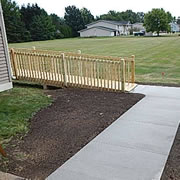 Do you need wheelchair access for your deck? front entrance? porch?  Sometimes, we've been asked to do special additions on our decks such as wheelchair ramps and custom railings.  Our crew loves being able to work on projects as important as this.  If something we build can make someone elses life a little bit easier than we're very happy to help.
Brad's Construction can work with you to design and build a deck that incorporates wheelchair access or even a standalone wheelchair ramp.
If you are looking to have a deck designed and then built for your home, business, townhome complex, housing association or development then give Brad's Construction a call.  With your ideas and our deck design know-how we'll be able to help you design and build a spectacular looking new deck for your property.