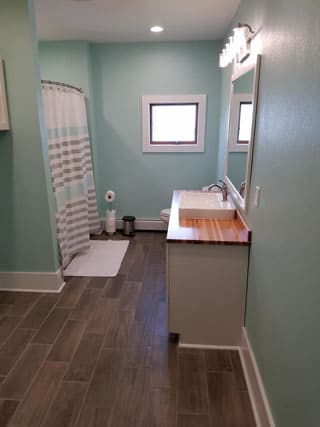 Bathroom Remodeling is one of the best investments you can make in your home, consistently offering the best return out of many other remodeling projects.  It's not a surprise that most home improvement experts would also agree that bathroom remodeling offers the homeowner the most bang for their buck.
Why Do You Want To Remodel Your Dodge County Bathroom?
Are you finally ready to remodel your out-dated master bathroom?
Do you have mold or water damage in your bathroom that needs repair?
Does your guest bathroom embarrass you when people use it?
Do you want to do something with that tiny hallway bathroom?
Do you want to convert an old bathtub into a shower?
Do you want to install a walk-in shower or tub?
Brad's Construction is a licensed and insured general remodeling contractor serving Dodge County Wisconsin and we can complete any size or scale of bathroom remodeling project within our Wisconsin service area.
With so many material and finishing choices for your bathroom it helps to have a little professional advice and guidance so you (the homeowner) can make educated decisions based on current bathroom remodeling trends and what will compliment your house the most.
We have extensive experience remodeling bathrooms in Wisconsin and we've pretty much seen it all when it comes to bathrooms and making them better.  We have many unique bathroom remodeling ideas for every size space and price point.  Brad's Construction experienced remodeling staff will assist you in designing, planning and building a functional and beautiful bathroom space that could rival any 5 star hotel (only if you want it to!)
Whether you want to create a spa like setting in your master bath with beautifully laid tile floors or maybe it's adding a skylight,  a new vanity, double sinks or that giant soaker tub you've always wanted.  We will help you choose the perfect fixtures and colors, vanities and countertops.  Brad's Construction can totally makeover your bathroom.
Bathroom Remodeling Services We Offer:
New Bathroom Construction
Bathroom Design Ideas
Tiled Showers
Tiled Bathroom Floors
Small Hallway Bathrooms
Basement Bathrooms
Master Bathrooms
Custom Vanities
What You Need To Know About Bathroom Remodeling
There are many choices to make when it comes to a full-scale bathroom remodel and it can help to know what exactly you want to accomplish with your new space.  Here are a few points to consider with your upcoming bathroom remodel.
#1.  Who Will Be Using The Bathroom Most?  Is this bathroom remodel for you and only you to enjoy?  Do you have a spouse who is getting ready for work in the morning at the same time you are and the bathroom is crowded?  Maybe you'll want a vanity with dual sinks.  Do you have small children who will use the bathroom?  If you have a small children that use the bathroom it won't make much sense to build a beautiful tile shower when a bathtub might be more suitable.  Knowing how your family will use the bathroom and how it fits into your lifestyle will help guide your choices.
#2.  Are You Remodeling An Existing Bathroom Or Building A New One?  If your home only has one bathroom to begin with then adding a second bathroom can really increase your homes value and make it more desirable should you ever wish to sell it.  It also makes the home much more convenient especially if you have a larger family.  Adding a second bathroom can be quite a bit more expensive though, especially if it's not located close to existing plumbing fixtures.  If you already have two or more bathrooms in the home than it might be a better idea to remodel one of those instead, typically the one that is used the most.
#3.  What Type Of Materials Do You Want?  Materials are always dependent on budget and the limit is really sky-high when you start wanting to use luxury materials such as ceramic tile or a custom built vanity with granite or quartz countertops.  The plumbing fixtures you choose can also contribute to cost from using standard fixtures and controls to going digital with your shower controller and more.
Brad's Construction has plenty of experience remodeling bathrooms and we'd love to have the opportunity to transform your bathroom into the one you've seen a magazine, or at a friends house, or maybe you have your own plans…
We realize that you've got many choices when it comes to bathroom improvement and remodeling contractor in our Wisconsin service area. We want you to know we understand and appreciate the commitment you are about to make to your home and we take it very seriously. When you choose Brad's Construction you're choosing a partner in making your home a better place. We guarantee it.