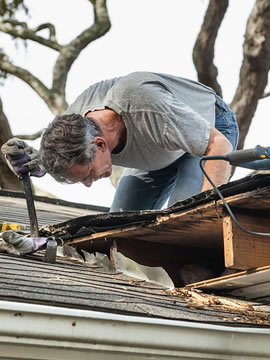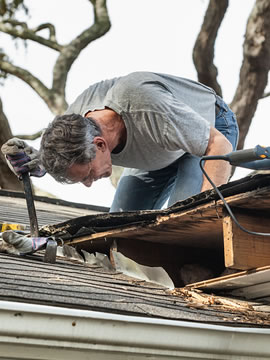 Leaky Roof Repair in Waupun, Wisconsin
A leak in your roof isn't the end of the world but if left unchecked or neglected could lead to significant damage to your home.  It's common for winter to leave your roof with a little wear and tear, from Ice build up, to hail and wind damage your roof is exposed to the elements 24 hours a day.  Unless the leak is obvious from inside your home, roof damage on your shingles can be very tricky to spot without a trained eye.
Having your roof inspected by a professional will often prevent you from having a much more expensive roof repair bill further down the road.  Most roof damage (caused by nature) is covered by your home owners insurance, and the what your insurance company considers roof damage that needs to be fixed or replaced might surprise you.
Brad's Construction is a full service roofing contractor serving the Waupun area of Wisconsin.  We specialize in roofing inspections and roof repair services throughout the Beaver Dam area.  Our experienced roofing team can do a thorough inspection of the damage on your roof and provide you with a thorough and competitive roofing estimate.  Sometimes it's the damage isn't something you easily see from the ground such as hail damage and shingle granule loss which happens over time.
Once we've found and documented the damage to your roof we can then come up with a plan to repair it for you.  If insurance is involved we can document the roofing damage as required by your insurers and we can even work directly with your adjuster if you'd like us too.  You've found us because your roof needs to be repaired, and we'd love to fix it for you.
Roofing Repairs in Waupun, Wisconsin
Leaky Roof Repair
Roof Flashing Replacements
Roof Flashing Repair
Chimney Flashing
Storm Damage Repair
Repairing your roof if it has been damaged should be a priority.  If left unchecked the damage to your roof will slowly get worse, and as water begins to get into your building it will bring about many other problems that are going to be extremely expensive to fix.
Sometimes damage to your roof isn't immediately obvious, it could be a slow leak around some flashing, or maybe several shingles have suffered severe hail damage from that last hail storm we had.   In either case the problem will get worse over time and it might take a professional eye to even realize you have a problem, unless of course you have water leaking through your ceiling.
When you choose a professional roofing contractor such as Brad's Construction to complete your roof repair you're hiring a trusted name in the Waupun area.  Our professional roofing crew will arrive at your home in one of our marked vehicles.  They will be able to inspect the damage on your roof, answer any and all of your questions, discuss a strategy to fix the damage and lastly, a competitive price to do the work for you.